7 Ways to Promote Your Book in Christmas
Christmas is around the corner and it comes accompanied by the biggest sales of the year. Books especially, are sold at large; both hard copies and ebooks. You can never really put an ebook under the tree. Nonetheless, it is still purchased for Christmas through the different online stores. If you are a published author, you should make the best of this high book-picking season and promote your book before December 25th.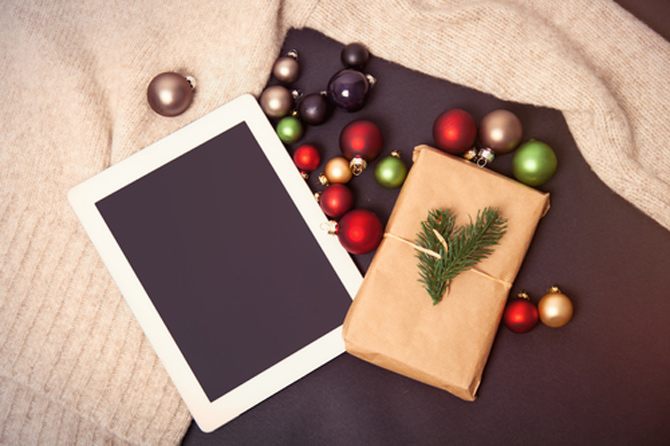 According to book marketing expert Heather Hart from Training Authors, Kindles are mostly sold in Christmas. So why would people pick your book over another? In this article we will list 5 practical ideas you can start applying to promote your book for Christmas. Remember, time is of the essence!
Christmas promotions
Everyone expects a Christmas promotion. Create a special discount, a free giveaway, or a coupon code for your audience. If you are already offering a promotion, then simply give it a new Christmas-themed name. If you are selling gift cards, give them a Christmas theme.
A Christmas promotion means it's a season-limited offer. The brain translates this to Get it now, or never get it at all. If you have the time, you may share a countdown for your special Christmas promotion, to generate interest. Leave the rest to the world of psychology.
Here are some great examples of book promotions in Christmas:
Cross-Market
You will find many events happening around you in this period of time, like book bazaars and warehouse sales. If you have a limited budget, no need to worry. You will find it actually free to set up a small booth in certain cases, as long as your message aligns with the event. Sometimes you will need to cover a certain requirement, like distributing brochures or flyers related to the event, at your own booth. Sell (or giveaway) personalized bookmarks, stamps, pens or shirts. People love artwork; if your artwork really stands out, you will trigger curiosity about your book.
There are a number of online services that can create customized artwork for you. Here are a few:
If you are creating expensive gifts, then it may be a good idea to give them away in a raffle. Not everyone will receive your gifts, but at least you will have a good list of names and emails to reach out to later. The more Christmas-themed your book presence is, the better impact it will have on wanderers.
Theme Your Book
December 26th is the day where online book stores experience traffic spikes. You don't control these websites, but many stores give you control over your book cover and description. Utilize this to your advantage. Design a Christmas-themed cover, just for this period, then revert back to the old one. Nothing complex. Sometimes a red strip with a "Christmas Special" label would suffice.
Theme part of your content and share it across social media. If your book is a story, have your illustrator draw characters from the book in Santa Claus uniforms. Also share quotes or relevant information from your book, that people can relate to Christmas.
We were surprised to find that rarely authors/publishers apply that technique. It's more common with comic books though, especially since they are periodical issues. The cover is Christmas-themed, with characters dressed up in Santa outfits.
Set Amazon Promotions
As we all know, most people prefer to use Amazon to do all their shopping. It's easier and much more accessible than other real-life shops. In fact, according to research over 50% of digital consumers opt for Amazon. So the best thing to do is to advertise through it.
One thing to also keep in mind is Kindle users. Whether they got a new device for Christmas or just want to read more during the holidays, they're perfect for you. Simply put a Christmas promotion on your book.
Specially Gift-Wrap It
Christmas is a season of presents and gifts. The buyer in Christmas is not the book reader (in most of the cases), but will gift the book to someone. By offering simple complementary services/products to support the buyer's goal, you will definitely gain interest from more buyers. Some buyers will be after the convenience, more than the product itself. If the buyer is hesitant between 5 books, and finds that you're offering a special Christmas wrapping, then you've hit the nail. Note that these things may not necessarily be free – you can charge the buyer, a small fee, and still win him over others for the convenience you're providing. Here are examples of things you can offer:
Christmas-themed gift wrapping
Attached gift card
Direct shipping to a friend
Free Christmas candy box
In the case of ebooks, this may not directly apply. But you may vary things slightly. For example, you may offer sending a personalized Christmas-themed gift email to the receiver.
Create an Engaging Holiday Newsletter
Another great thing to do is create a holiday newsletter. The holidays are a great time for you to appeal to your readers and many subscribers, especially when they're all look out for great deals. If you choose the right wordings, or tug at their Christmas spirit, you'll be more likely than not to intrigue them into buying a copy of your book. Just make sure you're offering them a great deal and you're golden.
Create a Holiday Campaign
In normal days, it is without question that your social networks should be active with content. In high seasons like Christmas, you should be extra-responsive to comments and messages. Just like you, others are also marketing their books. Faster responses to comments and smarter interactions leave great impressions to visitors, and eventually let you stand out from the competition. Create Christmas contests and give away free books for active users who are sharing your content.
Sharing work from other authors on your social networks will demonstrate to your audience the confidence you have in your work. You do not feel the need to hide the work of others, but you're more than happy to share such content, as long as it adds value to your followers.
Don't miss out on the power of Twitter hashtags. Here is a list of popular Christmas hashtags you should start using in your tweets:
#ItsChristmas
#Christmas
#ChristmasBook
#ChristmasGifts
#ChristmasPresents
#Countdown
#MerryChristmas
#MerryXmas
#Xmas
#eBooksForChristmas
Conclusion
High-traffic seasons like Christmas are exceptional opportunities, and your marketing efforts should double. Like they say, fish where the fish are. Otherwise, you waste your bait! There's no limit to creativity, and with time more and more people will discover new unusual ways to promote their books in holiday seasons like Christmas.  In this article we looked at five simple ideas, that are practical and applicable for our times. In summary, these ideas are:
Create a promotion or giveaway, exclusive to Christmas.
Find local Christmas events, participate in a possible way, and give away free "branded" gifts and souvenirs.
Apply a Christmas theme to your book cover (in the case of ebooks). Promote content inside your book which people can relate to Christmas.
Provide complementary products or services with your books, like Christmas gift wrapping.
Provide faster responses and smarter interactions on your social media pages.
Have any other ideas? Feel free to share them in the comments section.
You might also like:
Sell Books on WordPress with the WooCommerce Plugin
Guide to Selling on Amazon, Barnes & Noble, and Kobo