5 Widgets You Need to Enhance Your Ebook
A widget is an application that can be added to an interactive ebook allowing users to perform certain functions or access services as part of their reading experience. Each widget is designed to add features to the ebook and increase the ebook's interactivity and usability.
There are several forms of these widgets that we have, by now, all become familiar with, including embedded slideshows featuring images from external websites such as Flickr. Other common widgets that feature regularly on device-readable pages include:
Social media sharing, where users can share articles or items via platforms such as Facebook, Twitter or any other social media pages;
Note-taking capabilities, which let users add revision notes to their texts, which can be saved within the text itself;
Quiz creators, which allow authors to develop quizzes and other test formats at regular intervals throughout the ebook.
There are many other widgets that are just as important to potentially include in your interactive ebook, and which can vastly improve the user's experience. We think the following five widgets are the most important widgets you should include in your ebook.
1. Hotspot image widget
If you're creating a picture-heavy book and want to include text that appears at the tap of a finger, this is a great widget to highlight the ebook's visual nature.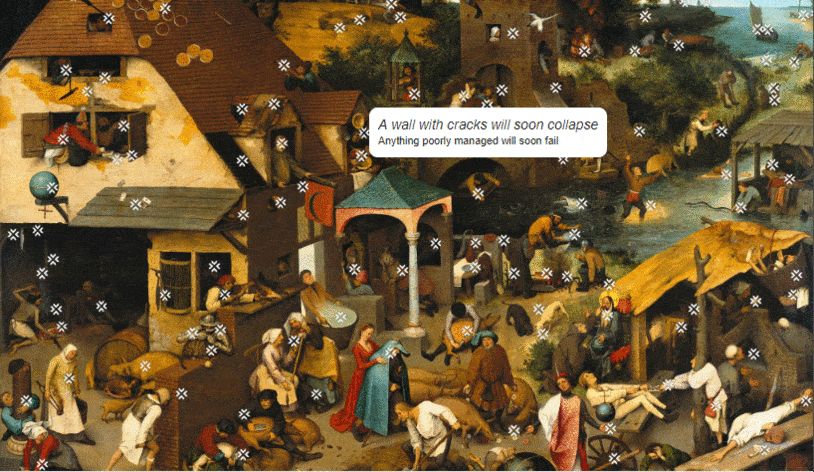 With this widget on board, you can easily embed hotspots onto an otherwise flat image, giving readers the possibility to:
Zoom in and out of pictures to look at them in closer detail, so that readers can observe the finer points of the picture;
Tap on certain points on the image to bring up pop-up windows containing text, images, sounds, videos and websites or links (or a mixture of all of them) with more information on the picture and its details;
Include infographics that visualize information and data through charts and diagrams – these can be interactive as well rather than just the traditional static piechart. As the chart comes up on the screen, you can tap on each column or piece of information you want to bring up to see it "fill up" on the chart. Once you have the chart set up, you can also add in text, image, video or audio.
Add interactive games, including moving elements such as rolling dice and moving board pieces, to make the experience just a little bit more fun for readers.
You can download this widget from here.
2. Image carousel widget
Ebooks have the one up on their printed versions in that pictures can be presented to readers in entirely innovative ways. This can be done by having them move around a page, move on the spot to show readers how they work or to highlight certain details.
This is where the Image Carousel widget really helps you get more creative and increase a reader's engagement. Rather than presenting static and unclickable images, this widget works in the same way as an image slideshow with some extra features.
Pictures come alive with readers able to move between images much more easily, as they are all stored on a movable dial. Readers can also click on certain spots within the picture itself that gives them access to more detail and information. Once the reader has clicked on a certain spot in the image, they can load up a separate image and access more detail and features that way.
The widget's interactivity is taken a step further with readers able to create maps via Google Maps featuring those images. With this feature on board, you give readers a much deeper ability to locate the information you're providing them with in 3D real-world terms, rather than just through the 2D view of the page.
You can find more on this widget here.
3. Feedback widget
This widget essentially helps readers provide feedback to you, as the author. It's a nice little touch that you can use to interact with your readers and open up a real dialogue. It could also mean the difference between just any other author who's out of reach, and building up a reader rapport.
With this widget, you have two options regarding where you place it within your ebook. The first option is adding the feedback widget towards the back of the book, which allows readers to gain a more overall sense of the book first before they comment.
Alternatively, you can place a feedback option after every chapter, which can be useful if, as is the case with Kindle ebook download options, readers can purchase a chapter as a "taster" of the whole book before they purchase.
Readers can simply open up the feedback form inside their ebook, with authors having the option to request reader e-mail addresses. This makes sure that authors have the option to respond directly to feedback.
This widget is particularly effective when used in 'free' ebooks that you distribute to grow your mailing list, tease of upcoming releases, etc. If the ebook you're distributing isn't the last step in your sales funnel, then all and any engagements with the readers are most welcome.
You can download this widget from here.
4. Sketchpad widget
As a slightly more fun widget to use, the sketchpad allows users to actually draw inside the ebook. It can be used as a way of getting users to draw, sketch or doodle in a predefined area of the ebook. The widget has the added possibility of importing your own pictures into the ebook too.
Not only are there several different backgrounds, including a join-the-dots feature (which is great for children), the widget's interactivity is a big bonus. Simply put, it allows users to choose from different pencil thicknesses and several different colours, amongst other things.
Such a tool can be used in most ebooks,  either with a well-weighted objective or just as a way for readers to entertain themselves with trivial tasks, particularly kids. Users can also either save the picture or email it directly from the widget.
You can download this widget here.
5. Split worksheet widget
If you've created an etextbook or ebook that's targeting school students, having the "Split Worksheet" widget onboard is a great way to make reading and comprehension exercises much easier.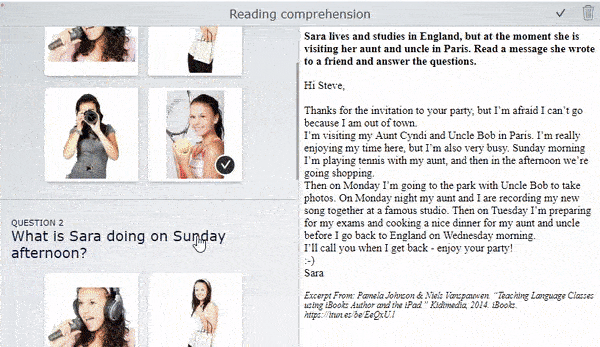 This widget essentially divides the screen in two, with one side of the screen containing scrollable text, with the other side containing the questions and answers section. With this widget on board, students no longer have to keep switching between different hard copy pages of the text trying to find the text they need.
Instead, they can easily scroll up and down, use easy search options, and have the part of the text they need visible to answer each question. If you're currently working on an educational project, we'd suggest you find a way to utilize this particular widget. It can also work for some game ebooks or trivia contests.
This widget can be downloaded here.
Unfortunately, unless they've had real experience in creating ebooks, most authors are still unaware of just how far widgets can help them create a unique and highly useable digital book. Widgets just take a bit of creative application and knowledge of how they work so that you can use them to help highlight the information in your ebook. We hope the above widgets get you well on the road towards a fun and interactive ebook.
You might also like:
Book Widgets: Everything You Need to Know
An Interview with BookWidgets Co-Founder: Niels Vanspauwen
Creating a BMI Calculator Widget for Your Ebook