How to Add a Feedback Form to Your Ebook
Quickly add a feedback form inside your ebook. You readers respond, and you get their answers instantly.
The best thing about creating your own ebook is the amount of freedom that comes along with it: freedom to write whatever you want and freedom to distribute it whatever way you like. But what might work for you, might not work for someone else, or the audience as a whole. Or maybe your ebook had the right potential to make it big, but for some reason just fell short.
You need to find out what readers actually want to read, or what went wrong with your book. Which is why you need to step up and dig deep into why readers aren't liking it as much as you'd hoped, and you can do that by going to the readers themselves with your questions.
Feedback Forms and Ebooks
Whether it's in a restaurant, online store, or help center, at some point you must have come across a feedback form. Everyone wants to know how they're doing and what could potentially cause damage to their establishment, business or service. These forms basically allow customers/users/readers to voice their satisfaction or lack thereof. 
The questionnaires may be in the form of papers next to the help desk, online surveys, or even phone calls. The most common way to survey people's opinion online these days is by using a survey platform such as Survey Monkey. But no need for the hassle of sending your reader out of your book to give feedback when they can do it right within the ebook itself!
Easy there, no need for you to raise your brow in confusion and anticipation of a complicated how-to process, it's not that hard. We'll even walk you through the steps.
Here's a sneak preview to give you a feel for how easy this is.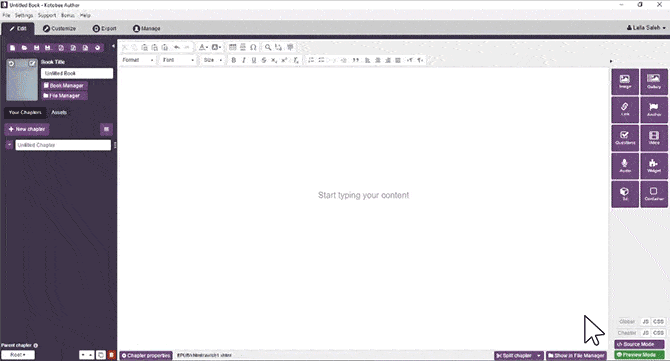 Create Your Form/Survey Widget
Before you start, you should probably take a look at Book Widgets: Everything You Need to Know to better understand book widgets. After that, what you'll need to do is find the right form you can embed into your ebook, and that can easily be done with the help of a widget from Book Widgets. Simply go on there and create an account. Once you've done that, the site will automatically take you through a quick walkthrough. So we know to head to the Widgets screen in our dashboard and click Create New Widget. Scroll to the bottom of the list of Widgets. Under Miscellaneous, you'll find Form/Survey.
Now we can really get started….
Click Add a Question.
This will provide you with a list of question options to choose from.
Fun stuff, right? No? Well, maybe for a Survey Fanatic if there is such a person. Anyhow, I'm going to create my own survey using 4 different options to show you how it will look. (You can naturally use more, or all. It really depends on what you're going for.)
Here are my questions (and the question types I chose):
| | |
| --- | --- |
| 1.      How would you rate this ebook? | Grade questions |
| a.      How likely is it that you will recommend this ebook to friends or family? | Grade questions |
| b.      Did it deliver? | Grade questions |
| c.      Did you learn something from this ebook? | Grade questions |
| 2.      Did you find the ebook's interactivity too overwhelming/underwhelming? | Text multiple choice question |
| 3.      What three things do you like to see most in an ebook? | Text multiple choice /multiple answers question |
| 4.      Which things did we fall short on? | Text multiple choice /multiple answers question |
| 5.      Why did you pick up our ebook? | Multiple line text question |
| 6.      What did you like most about the ebook? | Single line text question |
| 7.       What did you like least and how would you improve it? | Multiple line text question |
I grouped the first four questions under the same parent question since they worked best that way. That was followed by the next three questions with multiple choices (where they got to choose one answer) and multiple answers (where they can choose more than one). I kept the questions that required a written response till the end to make it easier to get through.
Go ahead and start adding your questions.
When you're done adding all your questions, you can download the widget. Simply go to the upper right side of the dashboard and click on the settings icon, then download.
And voila! You've now got yourself a feedback form for your readers to fill out, with the results coming straight to your dashboard.
Add the Widget to Your Ebook
To import the widget into your ebook, open Kotobee Author, and click on Widget on the right side of the screen.
After that, an Insert/Edit Widget popup will appear.
Choose Page Widget, and then click on Add widget file to choose the widget you've just downloaded from Book Widget.
If you want to alter the dimensions do that, if not, simply click on create! This is how it will look in preview mode.
And if you want to go as far as to see how it looks on a device as an ebook app, you can go on to Customize and view it there.
And there you have it! For more details on how to import this into your Kotobee Author ebook, you can refer to this link here: Add a Widget.
If you want to avoid the hassle of this form altogether and just use Kotobee Author's questions straight off the bat to create a survey, then that can easily be done. Just refer to this article here and you'll find quick and informative instructions to help you add questions in Kotobee Author.
Conclusion
Sometimes it can be hard to figure out whether you're barking up the wrong tree, or if your ebook simply put someone off even though it was on the right track. No matter how great your writing is, there's always room for improvement, which is why you should let your readers tell you what needs to be fixed. It's definitely not something to be ashamed of, these feedback forms can be a great boost to help your writing get out there and increase your readership. Your readers can also give you insight into what sort of content to provide in the future.
Read these posts.
Writing Contests You Want to Enter in 2019
45+ Free Resources for Writers and Self-Publishers