How to Enrich Your Interactive Ebooks With Kotobee Mini-apps
If there's one thing technology has taught us, it's that nothing will always remain the same. Everything changes as new innovations come to light. Things become more advanced, have multiple functions, and keep evolving. That includes ebooks. From basic interactive elements to book widgets and now Kotobee Mini-apps, ebooks have come a long way.
While many ebook formats prevent this technology from evolving in some aspects, others, such as the EPUB3, are constantly giving ebooks room to grow. We've gone beyond static ebooks and limited options. We're now at a point where anything is possible.
What are Kotobee Mini-apps?
Kotobee Mini-apps is the newest member of the Kotobee family. As with the rest of the Kotobee products, its main role is to enhance your ebook creation process and enrich the interactive experience. With this new addition, you can extend how far you can go with your ebook without the need for development tools and diving into coding.
Simply adding images, videos and audio isn't enough anymore, the mini-apps allow you to do much more than that. To see them in action, you can head on to Kotobee's website and download the latest edition of Kotobee Author.
Kotobee Mini-apps Vs Book Widgets
Looking at the mini-apps, one can easily start to compare them to the already available book widgets. After all, they both extend the functionality of the ebook, and enhance the interactive ebook experience. While they might seem quite similar, it's important to note that there are a couple of distinct differences.
The first being that the mini-apps are set and ready for use within Kotobee Author v1.7.0 and there's no need to upload them. They're much easier to customize from within the app, rather than doing it outside then adjusting them when you upload.
The second being that book widgets are embedded inside the ebook pages. The mini-apps, on the other hand, are independent of the content. That means you can open them no matter where you are in the ebook, not just in a particular chapter.
Get to Know the Mini-apps
So how many mini-apps are available for use right now? Well, the latest Kotobee release brought with it 20 mini-apps ready for use, with a lot more on the way.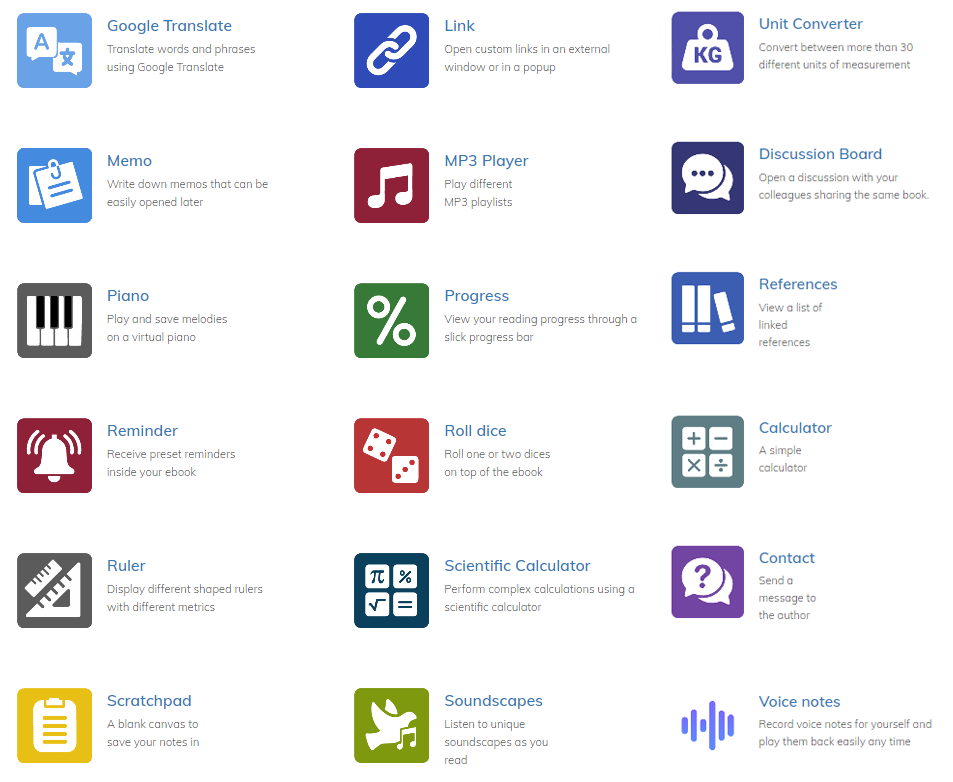 Here's an introduction to the ones currently available:
This simple but handy mini-app allows your users to do basic arithmetic from inside the ebook. They won't need to go in search of a real or online calculator to do some basic calculations. It's ideal for ebooks on Mathematics and Physics that contain exercises for the students to solve. Or any ebook with basic calculations involved.
This mini-app allows you to embed custom calculators created using Calconic. The calculator is displayed in a draggable popup window. It will give the readers more freedom on where to place the calculator throughout their ebooks. Ideal for mathematical and scientific ebooks.
This mini-app allows you to create customizable checklists for your users. Each checklist opens in a draggable window, allowing users to check or uncheck items off the list. It is particularly ideal for educational or training ebooks that include milestones or steps that users might need to check off a list. Learning how to use the checklists is very easy, so it won't be complicated for users to utilize them. You can also customize different properties of the checklist and the window it will be inside.
This mini-app displays a contact form your users can use to send a message to an email address of your choice. It's ideal for teachers looking for feedback or questions from students. Or any professional offering services people can sign up for. You also have the option to allow the reader to enter his name and/or email address.
This mini-app allows you to create and display several flashcards containing questions. Once your user clicks on any of the flashcards, the card will flip and the respective answer will appear. It's particularly ideal for educational ebooks with a lot of information that readers need to learn. Flashcards will help readers learn information easily.
This mini-app allows your readers to fill a form straight from Google Forms inside your ebook. This is particularly useful for questions you want to ask your reader or to get direct feedback from them.
This mini-app will allow you to enter a list of words or phrases for your readers, along with their respective definitions. It's recommended for ebooks with a lot of difficult words to understand for the readers. Whether it's a language ebook, or a scientific ebook, or merely one full or terminology, this glossary will be of great help. The list of words and their definitions can be searched and scrolled through.
This mini-app allows your readers to access Google Maps from inside your ebook. They'll also be able to store certain locations in memory. It's a great addition to ebooks on travel and history to help readers locate specific sites to visit when later on.
This mini-app allows your users to enter words and phrases to be translated using Google Translate's powerful translation API. It's especially useful for language-related books or books with a lot of foreign words. You may set the language your readers will use or allow them to choose one from a selection of languages using the drop-down menu.
This mini-app allows you to create hyperlinks to external websites. When you click on the URL clicks in the mini-app, the external website will open. You may choose whether the website opens in an external window or a popup inside the same window. It is ideal for ebooks that link out to online resources or with references the readers might want to view.
This mini-app allows your users to listen to your playlists, with audio controls appearing in a draggable MP3 player pop-up. This is particularly useful for children's books or books with narration that need to be listened to in a particular order. You can customize the different playlists you would like to play.
This mini-app allows you to create a list of references along with their hyperlinks and display them to your users in a draggable window. You can choose whether to have the links open in an external window or as a pop-up inside the ebook. It's quite useful for educational ebooks or ebooks with a lot of outside research.
This mini-app allows you to create text and image-based reminders that will appear to your users after a specified time. It's a helpful addition to display encouraging quotes, such as "don't forget to drink water", "you can rest for a few minutes" or even asking questions like, "what have you learned so far?". This makes it an ideal addition for medical ebooks, or ebooks on nutrition, sports or diets.
This mini-app allows your readers to roll a single or pair of dice on top of the ebook. It's very handy for make-your-own-adventure ebooks where readers can leave the choice for their next move to the dice. Or the choice of which page/chapter to turn to in the ebook. This will make for an interesting reading experience.
This mini-app allows your readers to display a ruler on the screen, to take measurements (in different units). There are horizontal, vertical, and triangular rulers available. The ruler can be dragged, rotated, and even altered in size. This mini-app is popular for K12 Math and Geometry based ebooks.
This mini-app allows you to add a scientific calculator to your ebooks that will open in a draggable popup window. It's a great addition to scientific or mathematical textbooks. The calculator supports complex operations such as sin, cos, tan, log, and more.
This mini-app allows your users to write and save notes. The scratchpad will be easily accessible for your users from inside any chapter. It is very ideal for ebooks with study material that users would want to take notes inside. The notes will be saved locally or on the cloud.
This mini-app allows your readers to choose a track from a list of 10 different soundscapes to play while they are reading your ebook. The soundscape will play without blocking the ebook. It's a great addition to create a specific ambiance for your readers.
This mini-app allows your users to convert between different units of measurement, neatly organized under 9 categories. It's particularly ideal for scientific or mathematical books for children. It can also be useful for ebooks on diets and meal plans.
This mini-app allows your readers to record voice notes and list all the previously recorded ones. It is very useful for those who don't like to type a lot, especially on mobile.
While the majority of the mini-apps require paid licenses to use separately or in bulk, there are a few available for free use.
Conclusion
It's time to expand the pre-established way we see and use ebooks. With technology making the impossible possible, we can go beyond what we already know. Kotobee Mini-apps is just one of many innovative ways we can do that.
As we mentioned before, this is just the beginning as there are many more mini-apps in store! In fact, if you have any suggestions for new ones, you can let us know by emailing support@kotobee.com. You can also click on the links to learn how to add and customize your mini-apps. What are you waiting for? Download Kotobee Author and give it a try.
Read more here.
How to Create an Interactive Textbook for Your Students
4 Tips to Improve Your Ebook with Interactive Visuals