What Is Virtual Learning and How to Benefit from It?
Some might say that using pen and paper is so old school, and they aren't entirely wrong! With the advances we see in technology every day, traditional in-class education is quickly being replaced with a more modern alternative, and that is virtual learning. This kind of learning uses EdTech to revolutionize the way people get educated. And according to a study conducted in the US, 81% of college students found digital learning technologies helped them boost their grades.
To better understand what exactly it is, we are going to answer the question "What is virtual learning?" and we will also explore a few tools that will make your virtual learning environment stand out.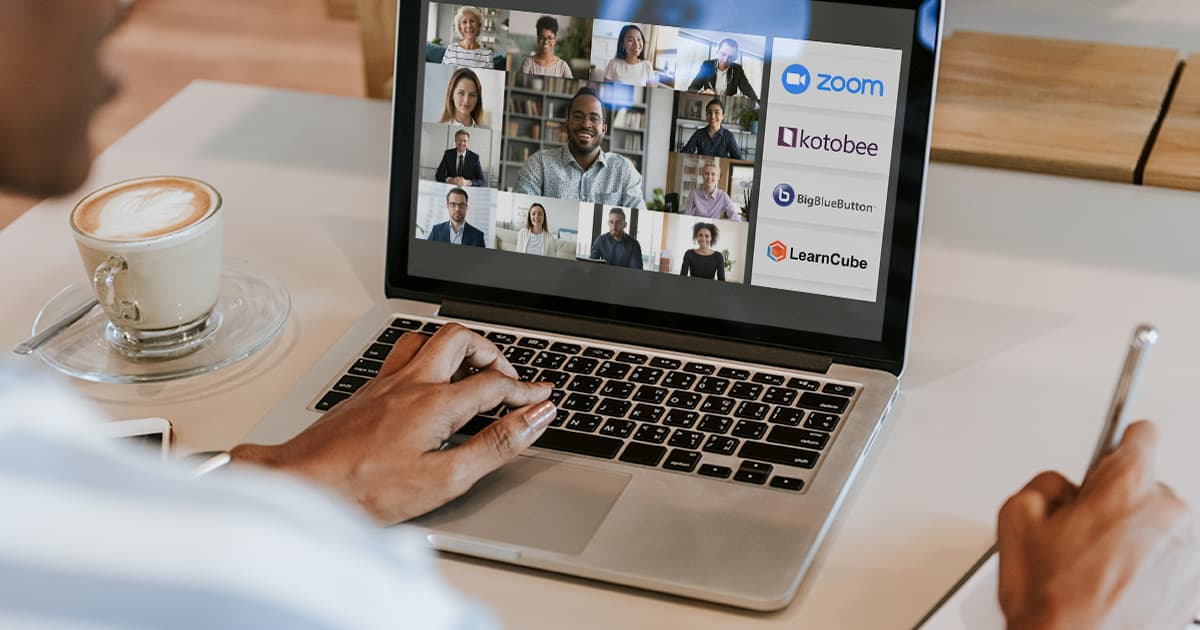 In This Article You Will Find:
What Does Virtual Learning Mean?
Simply put, virtual learning is the process of using technology to deliver educational material. It takes different forms and shapes, and relies heavily on modern e-learning tools that keep the learner engaged. In this kind of learning, the communication between the learners and their instructor is done through video conferences, forums, and instant messages.
What Is a Virtual Learning Environment?
A virtual learning environment (VLE) is the platform or software where the instructors and learners exchange and share educational material. The world "virtual" means it is primarily online, using a connected network of the users' computers. This platform is designed specifically for educational purposes and contains features that facilitate the virtual learning experience.
Virtual Learning vs Remote Learning
Here is an analogy that will better explain the difference between these two types of learning. Imagine there's a boy named Tom who goes to school every day. But one day there was a fire in the school and the students weren't able to attend any classes. Instead of just sending the kids home to do nothing, the school decided to move the classes online, where the teachers use a video conferencing software to explain the lesson to the students. The main investment the school does is in the software, which might take some time to get used to for students who aren't tech savvy. This is remote learning.
If Tom's school, however, invested in virtual learning from the beginning, students might have to attend classes and continue their education online–which is known as hybrid learning. They might also depend solely on virtual learning without having to attend any in-person classes. In some cases, the learning experience is completely virtually without any real-life interaction. The school designs the courses in a way that is deliverable virtually, using different authoring tools and educational material.
While both virtual and remote learning share the use of technology in delivering information, they differ in the 3 following points:
Financial Investment
Virtual learning invests more in course production, the IT system, educational material, and software. Also, the courses themselves need constant updates and improvement. In remote learning, however, the main investment is more in the software than the course production.
Execution
Virtual learning is mostly carried online with hardly any real-life interaction. Remote learning, on the other hand, is sometimes complementary to face-to-face education, and sometimes it substitutes it in case of emergency
Impact on the Learners
The Learner who is involved in a virtual learning environment should be familiar with the hardware and software requirements. By contrast, students in remote learning may take time to adjust, and the educational institutions should be the ones making the necessary arrangements.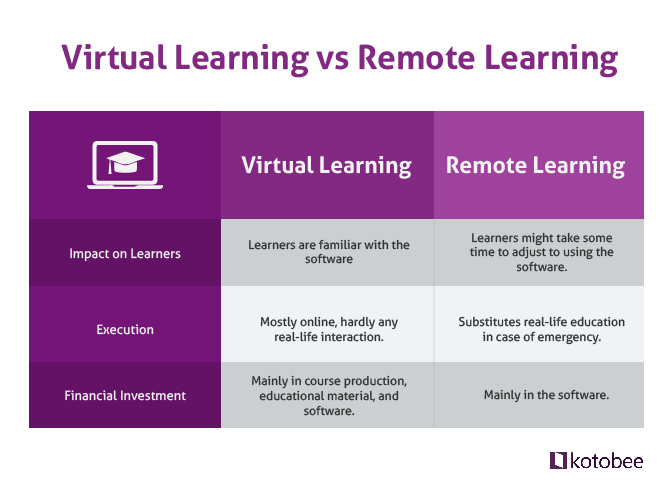 Types of Virtual Learning
There are mainly 3 types of virtual learning environments. The main difference between them is whether there is an interaction between the learners and the instructor or not.
1. Synchronous Learning
In this type of virtual learning, the learners and educators interact in real-time. This allows students to participate from a distance, and it's done through video conferences or audio chats.
2. Asynchronous Learning
In asynchronous learning, the learners and educators don't interact in real-time. Instead, there are certain learning materials and assignments that the learners have to finish in a certain time frame. The interaction here happens through forums and discussion boards. This kind of virtual learning is perfect for those who can't commit to a certain schedule.
3. Hybrid Learning
As the name suggests, hybrid learning requires both in-person interaction as well as online learning. The online or virtual part is used to enhance and complement the in-person learning experience.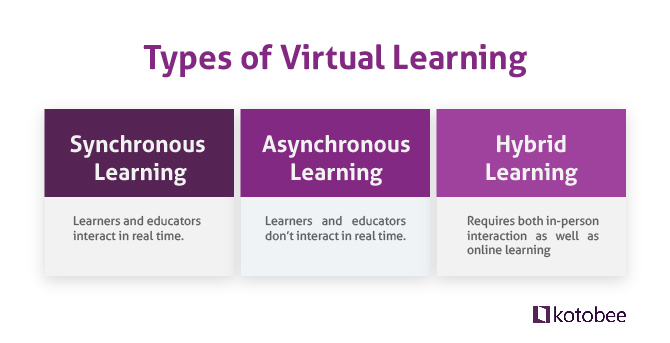 Characteristics of Virtual Learning Environment
As we said earlier, a virtual learning environment has its unique features and characteristics. So in order to better understand what virtual learning is all about, let's take a look at its 10 most common features.
1. User-friendly Experience
A good virtual learning environment should be customizable to the learner's abilities and progress. So instead of a one-size-fits-all course and educational material, the learning is personalized.
2. Video Conferencing
One of the must-haves of virtual learning is video conferencing software that allows the instructor or teacher to interact with the learners. This helps facilitate communication and create the necessary social interaction in the learning environment.
3. Video Recording
Closely related to the video conferencing feature is the video recording. This option saves a lot of hassle as it keeps the live lectures for future reference and also for anyone who wasn't able to attend.
4. Participation Control
While having a live session, it's always good to give a space for learners to interact. That's why it's important to have participation control and be able to mute and unmute participants or to let them virtually raise their hands.
5. Chat and Instant Messaging
Sometimes questions may arise that don't require a video chat. In this case, instant messages come in handy. It is also good for the communication between learners and each other, and with their teacher.
6. Digital Whiteboard
Depending on video conferences alone can get quite boring; it's important to use some kind of digital whiteboard that will help with the explanation and showing of diagrams and demonstrations.
7. End-to-End Encryption
Controlling who has access to the learning material and can attend the live session is essential in virtual learning.
8. Assessment Tools
Another feature that is essential in virtual learning is assessment tools. These tools help keep track of the learners' progress and allow the educators to see how the students are reacting to the learning material.
9. Data Tracking
Being able to track the learners' data helps the educators in improving the learning material. It also helps the students in keeping track of their grades and adjusting accordingly.
10. Notification and Alerts
Last but not least, notifications are one of the common features in many virtual learning environments. Educators use it to be alerted when there's a student submission or message. Also, students can use notifications to remind them before deadlines.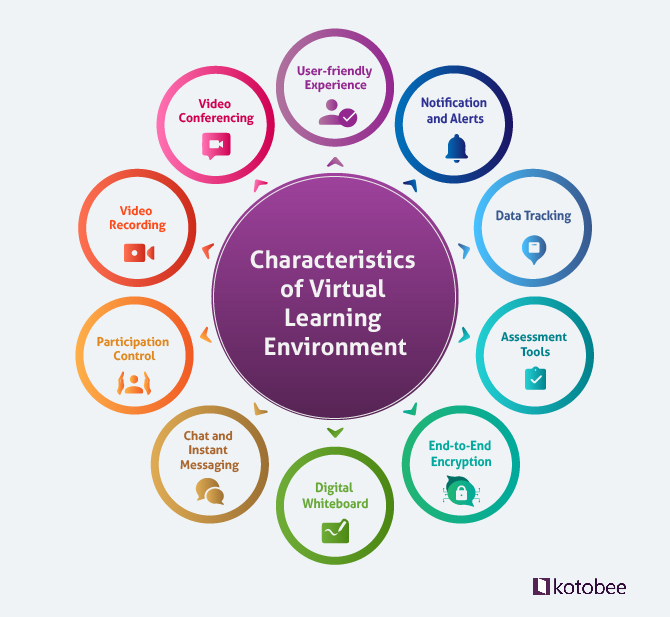 Virtual Learning Advantages
Now that we have explored everything about virtual learning, it's time to talk about its advantages.
Personalizing Learning
Unlike traditional, in-class education, virtual learning allows for the customization of the learning material to fit the learners' progress and skills. This is done by using different multimedia tools and interactive software.
Cost-Effectiveness
The cost of virtual learning is much less for both the educational institution and the learner. The main investment in the case of virtual learning is in the software and technology. Also, students save money on going back and forth to class or on textbooks.
Becoming Tech Savvy
One of the most obvious benefits of virtual learning is getting comfortable using technology, which is a necessity these days. Through this kind of education, learners get to use different software to research topics, complete projects, or finish assignments.
Quicker Feedback
No longer does the educator need to use pen and paper to manually grade the students' assignments, which could take weeks. Instead, the students are given quicker feedback as their work is either graded automatically, or the instructor simply comments on the students' posts.
Flexibility
As we mentioned earlier, asynchronous courses are available for the learners to access whenever they have time. This encourages more people with tight schedules to pursue higher education or improve their skills in various fields.
Wider Community
One of the best things that virtual learning offers is exposure to a wider community. Since the learners aren't tied down to a certain place, international students can access the learning material in the comfort of their homes. This makes the learners more open to other cultures and able to deal with today's global society.
Putting Everyone at Ease
Remember those shy students who never volunteer to participate or raise their hands? Now virtual learning makes it easier for them to interact as it gives them time and space to think before participating, which in turn removes the anxiety of the whole situation.
Top Virtual Learning Software
To make the virtual learning environment successful, there are some certain software and tools that are used to facilitate the educational process and improve the interaction between the learners and their instructor. This software should include features like: instant messaging, video conferencing and streaming, digital whiteboard, file sharing, discussion platforms, and third-party integration.
We've prepared a list of the best software out there that will make your virtual learning environment exceptional.
If you're looking for a free learning platform, then you should consider Google Classroom. Anyone with a Google account can easily access this platform and use it to connect with students, share assignments, and add different learning materials from Google Forms, YouTube, and items from Google Drive.
This award-winning virtual classroom software can be customized to your brand. It's also built for teaching, tutoring, and training. And the great thing about it is that it doesn't need to be downloaded, and the learners don't need to be trained to use it. It's designed for live online education and includes a content management system, interactive whiteboard, class recording, and chat.
The unique thing about BigBlueButton is that it's designed by teachers, for teachers. It's also an open-source software that allows customization right to the code. Moreover, it can be integrated with 3rd party applications and LMSs.
Adobe Connect is designed for delivering remote training, webinars, and online meetings. It helps you customize the content to fit your style and target audience. Users can also use this software to download files and participate in quizzes, simulations, and polls.
This software can be described as a one-stop solution that includes everything you might need in a virtual classroom. It includes features like an interactive blackboard, teaching tools, breakout rooms, and attendance tracking.
Take Your Virtual Learning Environment to the Next Level
After looking at the top virtual classroom software, you might want to consider other e-learning solutions and virtual learning tools that complement the educational experience and are easy to use. They also help in communicating and customizing the learning material.
As an educator, you might be looking for a way to share information in an interactive, creative way. Kotobee gives you just that, in addition to the ability to integrate your ebooks into different LMSs, customize it to your brand, and extract it into different formats.
This software, which feels like PowerPoint, is a desktop authoring tool that will help you in creating interactive courses and publishing them online. It's responsive to different screen sizes, and allows for team collaboration. Besides, it's simple to use for first-time designers or content creators.
If you're into creating professional-looking videos, then this software is for you. Camtasia can be used for creating tutorials, how-to, and YouTube videos, or for recording webinars, presentations, and meetings.
This is a cool software for gamifying the learning process. It allows designers and developers to create wonderful e-learning games. So instead of using the usual MCQs to assess the learners' understanding, you can base the evolution on how they do in the game.
This well-known video-conferencing software can be used on different devices without any difficulty. It also offers a special plan for education that supports hybrid and remote learning environments.
Conclusion
Education in the 21st century can no longer be as it was before. The move from the traditional classroom to virtual learning makes the educational process more effective and accessible. And with the amazing e-learning tools that appear every day, we can definitely say that virtual learning is the future of education.
. .
Read More
What is Distance Learning and Why is It Important Now?
5 Ways Generation Z Can Benefit from M-Learning