Ebook Branding: How and Why to Do It
Creating ebooks is one of the best ways to share knowledge and add value to both your customers and employees. But that's not all that ebooks can do for your brand; adding your brand identity to your ebooks or ebooks library can help you achieve so much more.
So let's delve deeper into some tips and tricks on ebook branding, and how and why to add your brand identity to your ebooks.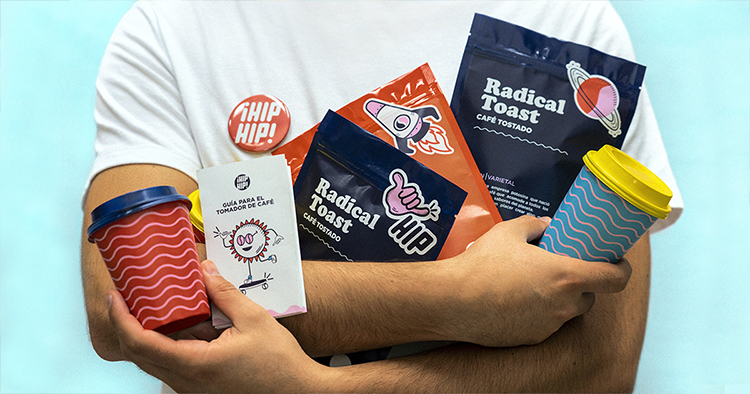 What Does It Mean to Brand an Ebook?
To brand your ebook means to add your business or personal identity to it so that anyone who opens this ebook knows it belongs to you or your organization. This is done by customizing certain features regarding the ebook content and design, such as the colors, fonts, and even the orientation.
Why Should You Brand Your Ebook?
Branding your products, including your ebooks, will help you create loyal customers and hire and retain great talent. It forms an emotional connection with them, as it helps them recognize your ebooks once they open them and appreciate the content you are offering. Additionally, it helps your brand stand out.
In short, ebook branding can serve as a great marketing tool. You can use these ebooks to increase your readers' engagement with your brand by delivering value. This in turn is going to elevate your brand.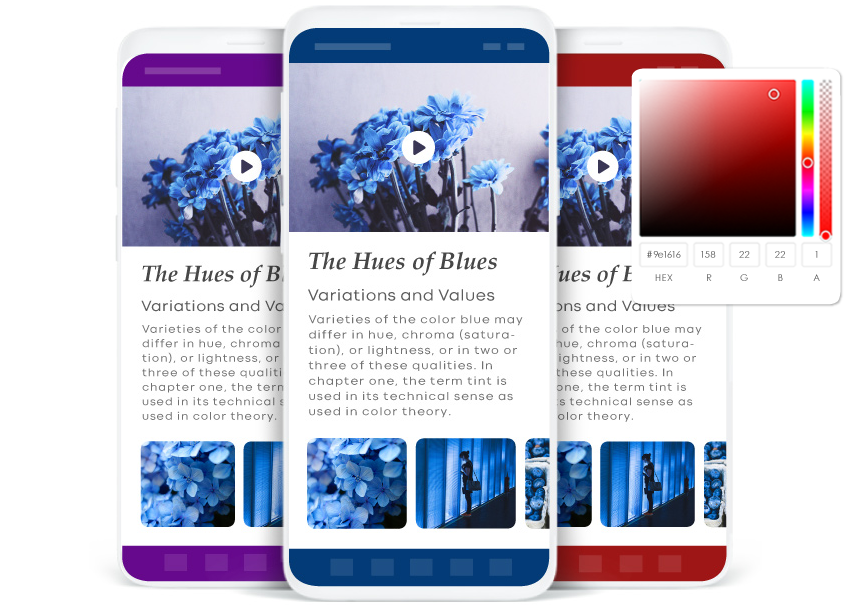 How to Brand Your Ebook
In order to keep your ebook true to your brand, there are several things you need to keep in mind. These aspects have to do with both the content and the design of your ebook.
We are going to walk you through each of these aspects and how to customize them to highlight your brand identity throughout the ebook.
1. Be Authentic
The first thing you have to keep in mind while preparing the manuscript is being authentic and true to both your customers or employees and brand. Present your content to your readers in an interesting and engaging way that shows how your ebook is different from any other.
2. Focus on Your Niche
It's essential while preparing your ebook to focus on the brand's mission and vision. The content of this book has to be aligned with the core philosophies of your business. And if this ebook is for employee training, you've to show your expertise on the subject matter through this ebook.
For example, if the mission of your brand is to create eco-friendly products to help reduce the impact of climate change, then your ebook shouldn't recommend using non-degradable everyday items.
3. Use Your Brand's Tone of Voice
Every brand has a tone of voice with which it addresses both its customers and employees. This tone could be formal, friendly, casual, etc. And just as in any content you present to your customers, your ebook should use the same tone to create a sense of harmony and help the customers easily identify with your content.
We at Kotobee, for instance, use a formal yet friendly tone throughout all channels. This applies to our website, blog, newsletters, ebooks, and other communication forms.
4. Add Your CTA
A great way to remind your readers of your brand is to add a call to action (CTA) whenever there's an opportunity. This way you won't only add value to them through your ebook, but you can also convert those readers into potential customers. These CTAs urge your customers to hire you, subscribe, or buy your product. For the CTA to be effective, it has to be eye-catching and clear.
5. Customize the Visuals
There are many visual aspects of your brand identity that you can add to your ebook. You can choose to do this yourself as you prepare your book, or if you have your manuscript ready, our creative design experts can take care of it for you.
Here are some of the visual elements that can be customized to represent your brand's identity:
Logo
One of the essential elements of your brand's visual identity is the logo. Some people like to add it as a watermark on every page, while others keep it in the header or the footer. Wherever you choose to place it, make sure it isn't distracting the readers from the actual content of your ebook.
Font
It's advised to keep the fonts of your brand–and ebook–between 2 to 3 fonts. You can use one for the title and one for the main text. In case you decided to use a third font, try keeping it for special text (e.g. quotes and highlights).
Using Kotobee Author, you can choose from a range of fonts embedded in the app. You can also import your own fonts and use them in your ebook.
Color Scheme
Last but not least, it is important to include your brand's color palette in your ebook. This can be incorporated into the design of the cover, the color of the fonts, or the graphics you include inside the book. Moreover, these colors can be used in the design of the ebook itself, including the header, menus, and bars.
Keep in mind that, just like the number of fonts you use in your ebook, an effective design usually utilizes 3 or 4 colors. Using more than 4 colors can make the design of your ebook look too busy and distracting.
How to Customize your Ebook App Using Kotobee Author
One of the best ways to create branded ebooks is to make them in the form of applications, whether it's a mobile, web, or desktop app. Kotobee can be your go-to ebook branding software, as it allows you to create and customize many aspects of your ebook app to help showcase your brand identity.
To add the visual identity of your brand, there are certain elements that you can customize. So let's walk you through these elements, using an ebook app created by Kotobee Author as an example.
Startup Page
It is important that your readers see your brand identity from the very first page of your ebook app, and that is the startup page that appears while the book is loading.
Kotobee allows you to customize 5 different elements of the startup page in the ebook app. These elements are the startup image, colors, slogan, logo, and loading message.
Interface Color Scheme
Not only can you customize the loading page of your ebook app, but you can also change the color scheme of different elements inside your ebook to add your brand color palette. Here's what you can customize:
The first thing you can change the color of is the header bar, where the chapter's title, chapter menu, notes, and bookmark icons are located. Both the background and text colors can be customized to match those of your brand. You can either enter the hex code or visually select a color and shade of each element.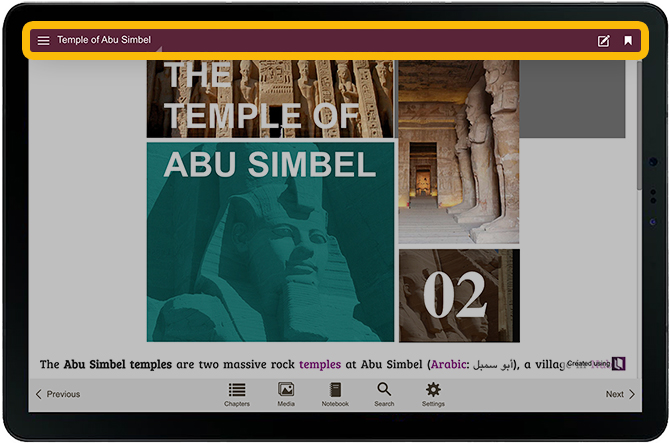 The chapter menu appears in a collapsible left panel when you click on the chapter's title. This menu is split into 2 sections: the book info on the top and the table of contents on the bottom.
Just like the header bar, Kotobee Author allows you to change the colors of both the text and the background. This can be done either by entering the hex code or by selecting the color and shade of your brand.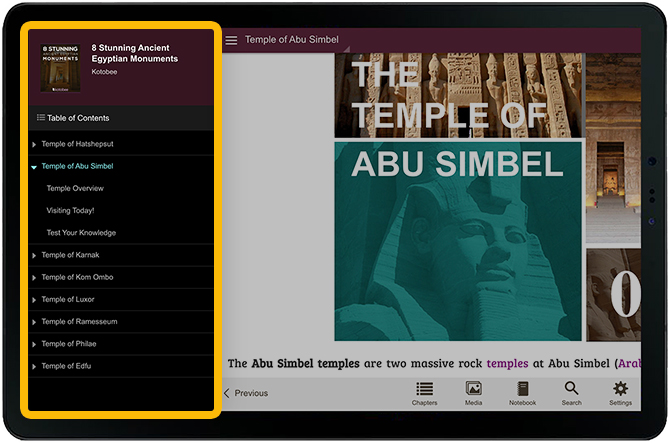 You can find the app's control bar at the bottom of the screen. This bar has all the tools your readers may need, such as the search, notes, and settings. The colors of both the control bar and the icons can be customized using the hex code or by selecting a color from the sidebar.
How to Brand Your Own Ebook Library
If you have multiple ebooks then you can add them all inside one branded digital library, and control access to your content. Kotobee Library allows you to create highly customizable ebook libraries and digital bookshelves. This way you can give your readers the comfort of reading your ebooks directly from your very own branded digital bookshelf. You can host your ebook library on your own website, or export it to different app formats (desktop, web, or mobile).
Here are some of the features of Kotobee Library:
Brand your ebook app with your color scheme and logo.
Add your own start-up page with your brand's identity.
Customize different tools and display options to provide a unique reading experience.
Change the language, header, footer, and even templates of emails that are sent to your library users.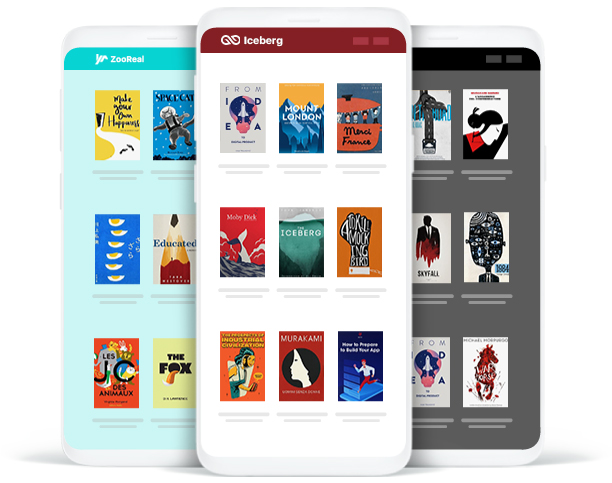 Final Thoughts
Ebooks can be a powerful marketing tool when used right. Adding your brand theme and identity to your ebooks can increase and improve the way your customers and employees engage with your brand, and it can also set you apart from your competitors. So head to Kotobee now to start creating and branding your own ebooks.
.
Read More
The Art of Crafting a Table of Contents in Ebooks
Ebook Copyright Page: How and Why to Make It (With Templates & Examples)