3 Popular Digital Publishing Outlets for Your Work
 Day by day, new and innovative digital publishing platforms come onto the scene. It became difficult to determine which are legitimate and which aren't. Some will help authors further their writing careers. Others will keep them lost in obscurity. But is steering away and focusing on traditional publishing the ideal solution?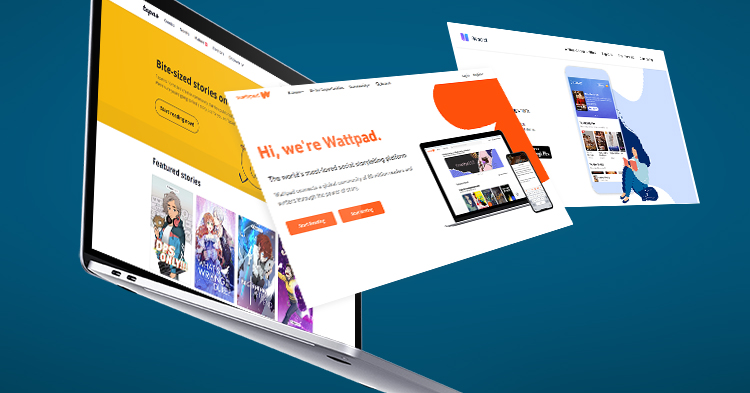 Let's face it, the chances of getting traditionally published get slimmer each year. It has nothing to do with you or the quality of your work, it can just be a matter of bad luck. That's why self-publishing your work offers you another chance to make it. It doesn't mean you can't hack it. The game keeps changing each day and you never know where your ticket to success might come from. So what can you do now? Well, there are three popular ways for you to get your work out there and maybe even make some money.
Improve Author Following
The first way to do it is to focus solely on improving your online presence and getting your work out there. You will be sharing your stories with large audiences and, in turn, grow your author following. The drawback is that all this work is for free. So, you might not be able to gain money from any of the work previously published online either. Here are six platforms that can help you do that.

Movellas is considered as the social writing platform for teens. As such, making money on it isn't likely. It lauds the thousands of free stories you can read on it. Not to mention that the target audience are teens, both in the sense of writing and reading these stories. It's not an ideal place for authors to start if they're hoping for payments. However, it might help grow your audience. Though, you need to keep in mind that it's specific to a particular age group. You can learn more about how it started and why,
here
.

Commaful is another large multimedia fiction site. It allows its users to read and share fan fiction, stories, poetry and comics in a unique picture book format. It's not just about the writing, but the visuals used with it as well. As with Movellas, while published authors might use it, this site is all about free sharing of content. Meaning, authors can share their stories, thoughts, poetry, or whatever they please. All without getting paid.

Underlined is more of a community than a mere writing platform. With it, users and aspiring writers can connect with another. They can share book recommendations, writing advice, videos, and more resources with another. In addition to that, they can discover new stories, and share their own. It is also part of the Penguin Random House Company. This site is more about connection and helping one another rather than a resource to get books out there.

Storybird is keen on inspiring creativity with a rather unique approach. The site collaborates with illustrators around the world. The goal is to inspire writers of any age to use the images as a catalyst for their work. With constant challenges, writers get to find their own voices. They also discover their own approaches to create original work based on an image. This type of visual storytelling has attracted many writers and educators.

Quotev is less about writing novels and more about getting an outlet for your creativity. This social media site allows users to write fan fiction, create quizzes and surveys. They can also follow others with similar interests to them. While authors can use it to create original content, it's not what people usually use the platform for.

Alter Stories is a free, long-term, successful marketing platform for creative writers. But the thing is, it's so much more than that! This platform allows authors to explore their talents. They can continue or finish a variety of storylines. You see, an author gets to write a story, and others continue it. So, it's more of a shared experience rather than one single effort. Basically, writers get to write interactive stories or read storylines. It's all done by making choices that determine the actions and the plot's outcome.
Get Paid to Write
The second way is to go straight for websites that pay you to write. They are mostly platforms with their own story apps, looking for new stories for their reader. While they pay you for your work, the money isn't exactly something to write home about. It requires consistent writing and effort to eventually get to a reasonable sum. But hey, at least you're getting money out of it.

Dreams boasts its ability to help authors get paid for almost every step they take. From signing up to uploading a specific amount of words every day. Even bonuses for specific word counts during the month. A lot of people have received messages from Wattpad asking them if they'd like to get published on Dreame. It's a bit confusing and many people are
on the fence
on whether you should take a risk with it.

MoboReader accepts stories in many languages, though it's currently focusing on English. With so many apps targeting many countries, the company has quite a wide reach. The company's original base is in China, so most of its stories are translated from Chinese. As for the new work, you sign a non-exclusive contract, and you get paid via the monetization program. Considering the setup of apps such as this, it can depend on the demand on your story.

As one of the newest platforms on the scene, Readict is still free for its readers. That means that monetization programs don't apply here. You get a signing bonus of $100, a flat licensing payment of up to $10K and referral bonuses of up to $500. While you might not escape its ads wherever you go, Readict might not be the best of the three here. It's relatively unknown, and few people can guarantee the legitimacy of its program.
Do Both
Last but not least, comes the way that combines both one and two. You can grow your author following, but also get paid while you're at it. Most of these platforms focus on helping you improve your author following. After that, you can make some money once you've proved your work is good enough.

Wattpad has made a name for itself in the digital publishing industry. It first started off with fan fiction and slowly steered to more original work. This transition has helped many authors, both young and old, to get their books out to a large audience. It didn't stop there, many even found themselves getting publishing platforms. Although it sounds ideal, the more stories on the site, the more likely new stories are lost in the middle. Some users even believed it has turned into a popularity contest. Everything is uncertain on the site unless you gain recognition. Even with the monetization programs and contests in place.

Unlike Wattpad, Inkitt shows off the bat that it's purpose is to help authors get published. Though again, getting published might depend on recognition and popularity. But Inkitt is all about author support. It helps authors use their stories to join contests to increase their visibility. Also, if your book does well, there's a chance it can go on Inkitt's interactive storytelling app,
Galatea
.
Swoon Reads is part of the Macmillan publishing group. It helps undiscovered authors reach their potential, gain recognition and get published. This particular platform is focused on YA (young adult) books. Your manuscript getting picked for publication can mean big things. You will be offered a $10,000 advance against. It can also include an option on your next young adult or new adult book. But just like with some others on the list, your book has to gain popularity first. (Though submissions are currently closed, they're bound to open soon enough, so don't despair!)

Tapas, like the rest, aims to help provide authors with whatever they need to keep on creating. Unlike the rest, Tapas has the bonus of allowing you to not only create stories, but comics as well. Not only can Tapas help you publish books, it can help you grow your author following and monetize your work. In fact, there are three ways of monetization. One, by ad revenue for whenever anyone reads your work. Two, support program, where readers can tip you for the work using the site's currency. Three, premium stories on the site can receive money through their micro-payment system.
Conclusion
While not every digital publishing platform is for you, every small step counts. Whether it's improving your author following or writing for money or both, they all count. Many authors have met success on these platforms in one way or the other. It's all about your dedication, your work, and sheer dumb luck.
Read more here.
The Basic Guide to Self-Publishing Books
7 Things That Will Change Your Approach to Self-Publishing