How to Promote a Book on Facebook: A Guide to Using Ads, Giveaways, and Much More
With a sea of books getting published every day, capturing your target audience's attention can be a challenge. There is, however, a great opportunity for promoting your books on the world of social media. And out of the many social media platforms out there, Facebook stands tall as the most popular network, boasting a massive user base of nearly three billion in 2022.
This is the reason why you should let your books get the attention they deserve on Facebook! With a wealth of promotional tools at your fingertips, the world's largest social media platform can surely help you reach new readers and boost your book's success. So get ready to discover the secrets of successful Facebook book promotion in this article.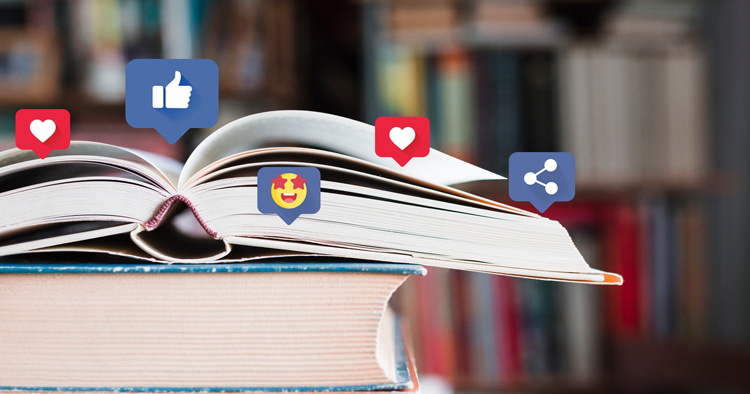 Why Promote Your Book on Facebook?
Facebook is an ideal platform to get your book across to a large audience; it also has other features that make it a standout platform for your book promotion strategy. So let's review these features together:
Competitors Research
Researching your competitors is indispensable to your growth as a brand and as an author. It helps you keep up with market trends, understand your audience better, and fill the gaps in your marketing strategy.
Facebook supports competitive research through its insights tool, which you can easily access by following these steps:
Visit the overview insights section on your Facebook page and locate the "Pages to Watch" feature.
Click on "Add Pages," to add your competitor's page.
Once you have done that, you will be able to view how often they post, and their engagements, including their total page likes and best-performing posts.
The only downside to this tool is that the data provided covers the last seven days only. So, if you need to know more about your competitors, you can use other analysis tools such as Sprout Social, Hootsuite, or Sociograph.io.
Facebook Ads Targeting Options
When it comes to creating ads, Facebook's targeting options are unmatched. Using these options, you'll be able to reach people who would be interested in reading and purchasing your books. And the great thing is that Facebook gives you the option to refine who these ads target with these three audience selection tools:
Core Audience: This is where you choose the basic targeting options for your audience such as location, demographics, interests, online activities, and connections. And if you'd like to target the same audience again in your future campaigns, you can easily save this defined audience in the Ads Manager.
Custom Audience: These are the people who have previously interacted with your business. It could be those who bought your books, visited your author website, or expressed interest in your writing. 
In order to create a Custom Audience to target with your ads, you can simply use the contact lists you already have, or you can make use of Facebook pixel or SDK that automatically allows you to target those who visited or interacted with your Facebook page or your website.
Lookalike Audience: Facebook makes it easy for you to reach people who are similar to your current readers and followers. And who knows; since they have the same interests, they might turn out to be your biggest fans. All you need to do is first to create a source audience of your readers, then create a lookalike audience based on them, and finally, your ads will automatically appear to those with the same traits.
Reaching a Wider Audience
By promoting your ebooks on Facebook, you can reach new audiences and gain exposure to people who might not have discovered your work before. This increased visibility can solidify your brand, expand your fan base, and attract new customers. By building a strong brand and targeting a large audience, you can boost your chances of success and achieve your promotional goals.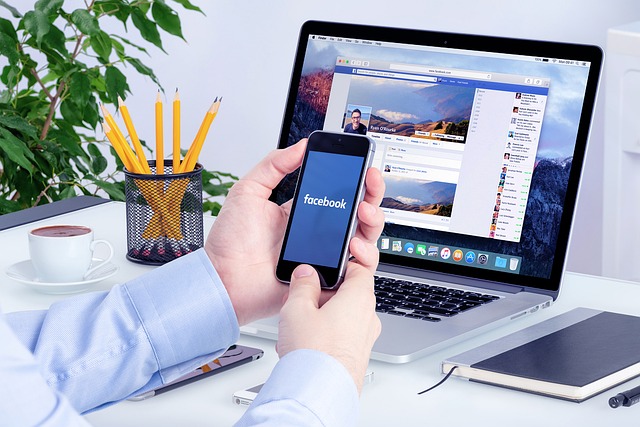 5 Ways to Promote Your Book on Facebook
Facebook offers authors a range of useful tools to connect with readers, share information about their books, and engage with their audience in a personalized way. When utilized effectively, these tools are the key to gaining attention for your book on this widely used platform. So let's take a look at how to make good use of these tools:
Create an Author Page
Creating an author page on Facebook is a crucial step in promoting your book. It allows for more personal interaction with your readers, resulting in better engagement. This page also gives you a dedicated space to promote your work and share updates and news about your book. And since Facebook has a large user base, you can easily reach a wider audience and expand your fan base through your author page.
How to Create an Author Page on Facebook?
The first step to creating an author page is to have a personal account on Facebook. Once you have that, follow these steps:
Click the "Create" button at the top right of the homepage and select "Page."
Enter the name of your page, and select the Author category.
Add a profile photo and a cover photo. It is best to use a headshot for your profile photo and a photo of your book for the cover photo.
Fill out the other necessary information when directed to your page, such as providing information about yourself, your book, and links to your website and other social media channels.
If you'd like to get some inspiration while creating your author page, take a look at the pages of successful authors, like Audrey Carlan. In her author page, she used a profile picture that is a fitting headshot of herself. As for the cover photo, she chose to display her books in an aesthetically pleasing design that goes with the colors of her profile photo. And she constantly posts updates about her book and engages with her audience in a clever and interesting way. Take a look at this post, for example: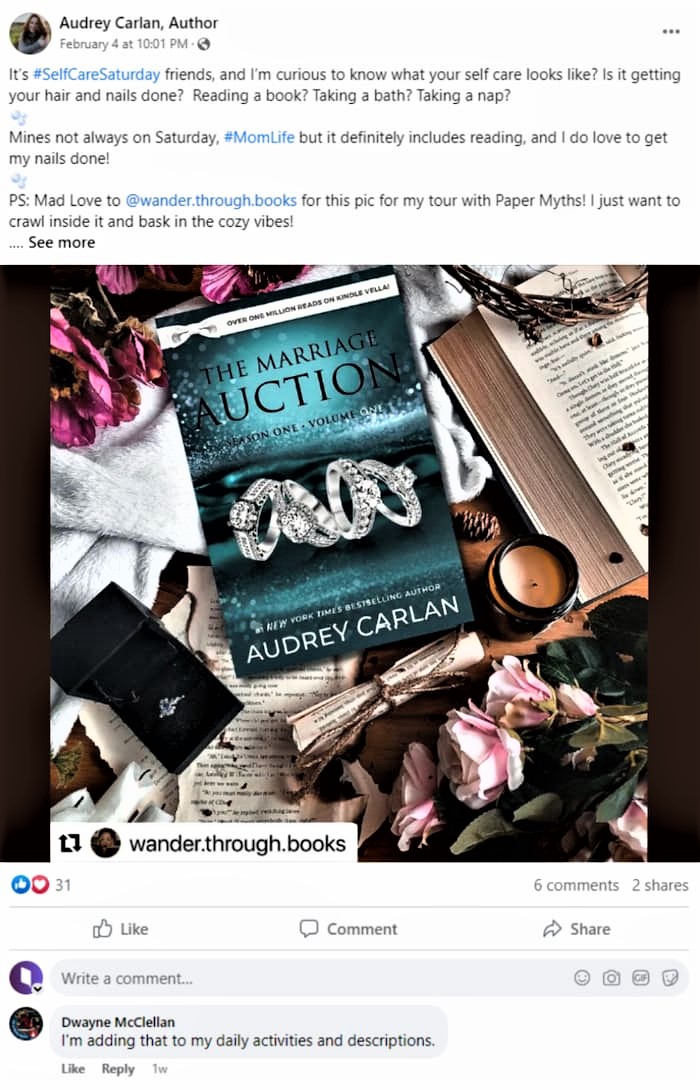 Create a Content Calendar
Creating an author page is one thing, and putting an excellent social media marketing strategy to ensure you can get the best out of this page is another. A good marketing strategy is crucial to increasing readership and driving more sales to your books. And to implement this strategy effectively, you'll first need to create a content calendar.
A content calendar helps you schedule and manage your content in an organized manner. It should include things like the timing of your next live sessions, how often you should post pre-recorded videos, interviews, excerpts from your next book, and much more.
Create Facebook Ads
You can create Facebook ads for different purposes and in various formats. They can be designed to promote your website, your book, your Facebook page, or specific posts that you published before on your author page. You can create your ads in the form of images, videos, slideshows, or Instant Experience.
To create a Facebook ad, here's what you need to do:
Head to your Ads Manager and click on the green "Create" button on the left. The Ads Manager displays a performance dashboard where you can view, edit, and see the results of your ads, campaigns, and ad sets. So, this dashboard will be empty if it's your first ad creation.
Decide on an objective. Ads Manager prompts you to choose an objective from its many options: brand awareness, reach, lead generation, app installs, traffic engagement, and video views. Once you decide on one, it helps Facebook provide you with the best-suited ad option to achieve your chosen objective.
Choose your target audience. Facebook's various targeting options allow you to configure your audience based on location, age, gender, education, behavior, interests, and more. You can also choose to target people who have interacted with your brand before in any way through creating a new Custom Audience. You may need to experiment with several targeting options before getting the ideal audience for your ad.
Set your budget. Facebook offers two options for setting a budget for your ad campaign: daily and lifetime. If you choose a daily budget, Facebook will show your ads throughout the day until the budget limit is reached. With a lifetime budget, you can set the total budget for the entire ad campaign and determine the length of time it should run.
Publish your ad. Once published, your ads will start appearing on the Facebook feeds (and Instagram if you choose to publish there as well) of your audience, but it doesn't end there. Make sure to monitor the performance of your ads through the ads manager dashboard, and be ready to optimize your ads wherever necessary.
Once submitted, your ads will start appearing on the Facebook feeds of your audience, but it doesn't end here. It is best to check on the performance of your ads and make changes wherever necessary.
Organize Giveaways
Organizing giveaways is an excellent way to grab your audience's attention and get them to engage with your posts or to sign up for your newsletter if you have one. The process of winning the giveaway should be as simple and straightforward as sharing, commenting, or liking a post. The giveaway itself can be a free copy of your book or maybe some gift cards.
You could also collaborate with other authors to organize a group giveaway. If the prize is your book, you can convert it into an ebook, so the winner can download it directly from your website, without the hassle of sending them a physical copy.
Join Facebook Groups for Authors
Joining Facebook groups that are specifically for authors, readers, or writers will give you access to a community of like-minded individuals. In addition to being a great medium to share and promote your book, it is also perfect for asking for reviews, organizing discussions about your books, or just observing the latest trends in your genre.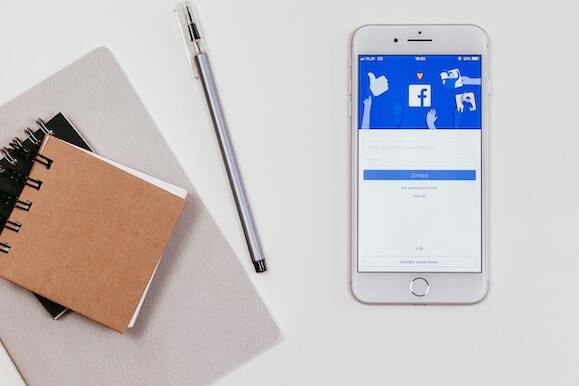 Obstacles Authors Face While Promoting on Facebook (And Ways to Overcome Them)
While Facebook for writers makes it easy to market your books, you may face some challenges along the way. Below, we'll identify some of these challenges and recommend solutions for each of them.
It Takes Time to Get Results
As you start promoting your book on Facebook, you'll need to create and curate content that resonates with your audience. You might also need to make some changes to your content to match different stages in your readers' buying journey. Essentially, you must keep putting out content that keeps your audience hooked, and doing this may be daunting for some authors.
To solve this issue, you can hire a social media expert who will help create a Facebook content strategy for you. And in case you are the one doing all the social media work yourself, then you should first identify your target audience. You should also utilize the Facebook insights tool or any other analytics tool to help you know the posts that your audience best engages with. Another thing you can do is to plan and create ahead all the content you will be posting on your page for the next month or more.
High Ads Costs
Facebook ads can be tricky and may require some trial and error at first to find what works and what does not. This may pose a problem to some authors because they may not have the patience to do so. And since research suggests that Facebook advertisers should expect to pay $0.94 per click, many authors may not be able to afford it, especially if they are not getting their desired results.
Despite any challenges, it's important not to give up on using Facebook ads because they can be very effective. Review your marketing strategy and goals as well as your budget before considering the paid ads option.
Highly Competitive
In the crowded and competitive environment of Facebook, where millions of individuals and businesses are competing for attention, it can be challenging for authors to make a name for themselves on this platform.
To increase visibility and stand out among the masses, you must create high-quality and distinctive content. Using eye catchy visuals, and adding attention-grabbing captions can help to capture the interest of your target audience. Additionally, partnering with other authors or influencers can expand your reach and allow you to tap into new, untapped audiences.
Mistakes to Avoid When Promoting Your Book On Facebook
Avoid costly mistakes in your Facebook promotional endeavor by learning from the experiences of others. Don't fall into the trap of believing certain strategies are the right ones, only to later realize they were costly errors. To help you succeed, we have listed some common promotion pitfalls to avoid:
Betting Everything on One Big Marketing Campaign
One mistake you should never make is channeling all the funds you budgeted for ads into one huge campaign, because what if it fails? A better strategy is to invest in several smaller campaigns, as it allows you to try out different approaches and see what works best. By testing and optimizing different strategies, you can find the best approach for your needs and maximize your return on investment.
So, to decide what works for you, experiment—experiment based on your audience, your content optimization, and even the ad placements. You can do this from Facebook's Ad Manager. Once you find out that some ads aren't working, do not hesitate to turn them off so they don't keep draining your budget.
Starting Your Book Promotions Campaign Late
Successfully promoting your book requires time and a well-thought-out plan. It involves sharing intriguing excerpts from your book, providing updates on the writing process, and better yet connecting with potential readers. That's why starting your promotional campaign several months before publication can help build excitement and anticipation among your readers.
Only Publishing Book Promotional Content
Focusing solely on book promotion can be overwhelming (and sometimes boring) for your audience and may not be effective in the long run. A good strategy is to dedicate one out of every three or five posts to your book promotion campaign. You can then post about your writing journey, some personal updates, or include fun and educative writing-related content. By striking a balance between promotional content and other engaging content, you can connect with your audience, build relationships, and drive more sales over time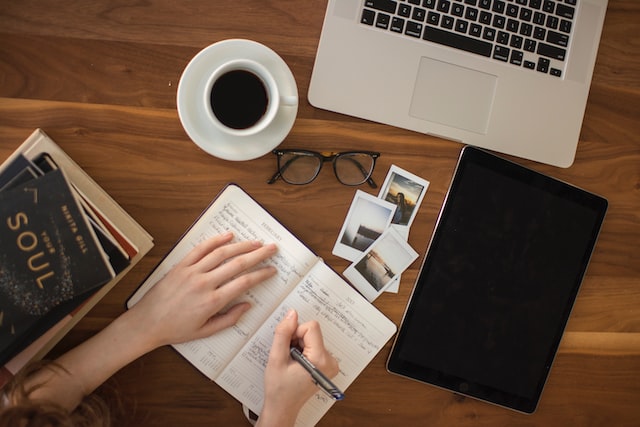 How Much Does It Cost To Run an Ad Campaign For Your Book?
The cost of a Facebook ad campaign will vary depending on a number of factors: your target audience, ad format, bidding strategy, and budget. Depending on these factors, some authors may spend as little as a few dollars per day while others may spend hundreds of dollars.
One of the popular payment methods to calculate the cost of Facebook ads is the one based on cost-per-click (CPC). The average CPC for a book promotion campaign can range anywhere from $0.50 to $3.00 or more, based on the abovementioned factors.
You must remember, however, that these figures are only to give you an idea, and do not represent the exact amount you may have to pay. Ultimately, it's best to experiment and evaluate the results of your campaigns to determine the most cost-effective approach for your specific needs.
Concluding Thoughts
Promoting your books on Facebook can help you reach a wider audience and increase your visibility. Utilizing features such as Facebook ads, author pages, and reader groups allows you to target the right audience and generate buzz for the book.
To successively achieve your promotional goals, remember to maintain a consistent online presence, interact with your fans, and share updates and teasers to keep the audience engaged. By incorporating these strategies into your marketing plan, you can effectively use Facebook to boost your book sales and establish yourself as a recognizable brand.
.
Read More
How to Market a Self-Published Book: Practical Tips for Indie Authors
How to Sell More Books on Amazon in 9 Simple Steps