Your 6-Step-Guide to Building an Author Website
So you've written a book that you believe is going to WOW readers. Great! Now how do you make sure it actually reaches them? Of course, you can post about it on social media, but in order to really set yourself apart as an established, professional writer, you need to create your own author brand.
Having an author website is an essential step in creating that brand; it's how you connect with your readers by offering them a platform that tells a unique story about who you are and what you write about.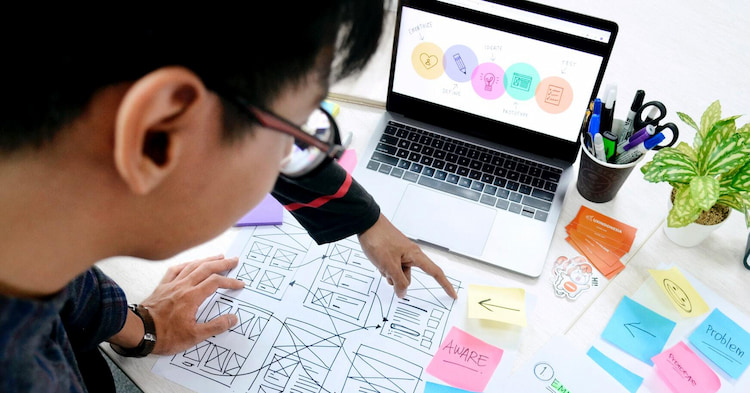 If you're not tech-savvy, you might be thinking: I'm an author—what do I know about creating websites? Well, this is what this article is for! We're here to walk you through all the steps required to create an author website that's perfect for you, starting with choosing your domain name, all the way to deciding what to include on each page of your site.
Why Should You Have an Author Website?
Before taking you through the steps of building an author website, let's go over the main reasons why you need one in the first place:
Reason #1: Sets You Up as a Professional
Contrary to what some might think, authors don't work in a vacuum. Sure, the writing process itself might be a solitary act with many hours spent buried in a manuscript, but the rest of the publishing process is very much public.
An author website is a way of publicly informing your readers that you're "legit." It's a platform for you to professionally showcase your author identity and your work.
Reason #2: Gives You Full Content Control
The reason it's important to have a website, as opposed to only a social media presence, is that author websites allow their owners total editorial and design control. You can post whatever content you want (with no character limits, for example) and design your pages however you'd like. This means you're not restricted to the regulations and algorithms set by social media platforms.
Reason #3: Acts as a Powerful Sales and Marketing Tool
Your author website, if designed correctly, can be a highly effective sales and marketing tool for your books. Aside from acting as your own personal author brand, an author website opens up a direct line of communication with your readers, informing them of upcoming book releases, where to buy your books, and any media attention your work has received.
You can therefore use an author website to sell your ebooks directly or to set up a mailing list that users can sign up for in order to receive frequent updates about your new publications, press releases, and book giveaways/signings.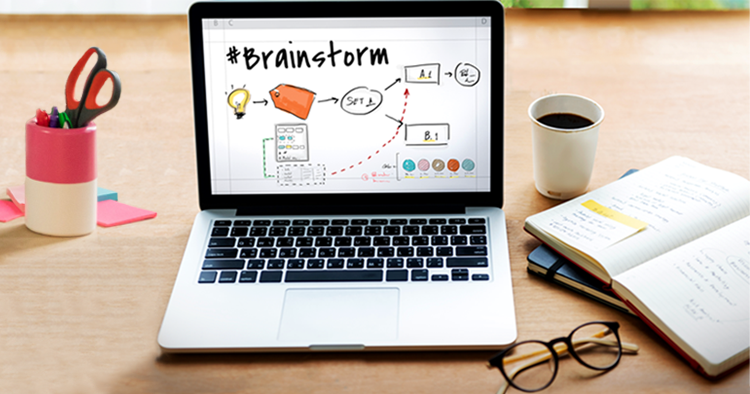 A Step-by-Step Guide to Creating Your Author Website
Breaking down any task into a series of steps makes it seem far more doable. In the case of creating an author website, here are 6 steps you can follow to create a great one.
Step 1: Choose a Domain Name
A domain name is the name of your website, also known as the URL. It is the address of your website, meaning that when people type it into their browser, they will land on your website's homepage.
Like usernames on social media platforms, domain names must be unique. Ideally, of course, you'd include your first and last name since your name is a key part of your author brand. But keeping it simple, like JaneDoe.com for example, is challenging because chances are a domain like that is already taken. You'd need to work around it, for instance by adding catchy and relevant words (e.g. JaneDoeWritesBooks.com).
You don't, however, want to add a bunch of numbers or cryptic letters because then your website name would be very difficult to remember! Our tip is to do some research to see what's out there. Google Domains is a useful tool to look through available domain options suitable for you.
Step 2: Buy Your Chosen Domain Name
Now that you've picked out an available domain name, it's time to snatch it off the market! Your next step will be picking a trusted domain registrar from which you can buy that domain name.
Different domain registrars will offer different prices and services. Some of the popular registrars are NameCheap, Domain, GoDaddy, and Bluehost. Domain names currently cost somewhere between $12 and $25 per year.
Whichever domain registrar you choose, all you have to do is make sure your domain name is available by typing it into the registrar's search engine. Once you've made your decision, you simply purchase the name online. After you make the purchase, the domain name is yours and cannot be used by anyone else.
Some domain registrars offer domain names for free, but they place a time limit on your right to use the domain, after which it's no longer yours. Moreover, free domain names will often come with a random URL extension that might make your site appear less "legitimate."
Step 3: Choose Your Website Host
Purchasing a domain name does not mean you will now type it into your browser and find it. In order for your URL to go "live," you need a website hosting provider. A web hosting server "hosts" your website, giving it a place to live; it connects the content of your website to viewers online.
Often you'll find that domain registrars also offer website hosting services so that you can buy your domain name and web hosting all in one place. However, you should explore your options before deciding. Some popular website hosting providers are Bluehost, Hostinger, HostGator, and GreenGeeks.
Step 4: Choose Your Website Platform
If a web hosting server offers a "home" or address for your website, then think of a website platform as your home's foundation. In other words, website platforms offer a framework within which you can start building your author website.
Because web platforms are basically the software that holds all the contents of your website, your choice of web platform affects your website's aesthetic, maintenance, and user experience. So before deciding on one, try to envision what you want your website to achieve (e.g. nicely designed but not overly complicated, with a user-friendly interface).
Here are some popular website platforms to choose from: WordPress, Drupal, Joomla, Weebly, and Squarespace.
Step 5: Design Your Author Website
When designing your author website, you should always keep your target audience in mind. What do you think they'd be most interested to see? What news about you and your work would attract them?
Here are some questions to help you decide on the general design and aesthetic of your website:
How would you describe your ideal reader (or in this case, your ideal website visitor)? Think of their age, their interests, their level of tech-savviness, etc.
What are three things you hope to get from your author website? Pinpointing your goals is a way to ensure you work towards achieving them. For instance, you might be aiming to increase your direct book sales, or perhaps you want to connect with more readers.
What is the best way for your author website to achieve the previous goals you outlined? For example, if you've identified your ideal readers as teenagers and young adults, you might want to design your website in a way that attracts a tech-savvy audience. Or, if your goal is to gain exposure with more readers in general, you could set up a page dedicated to monthly book giveaway competitions.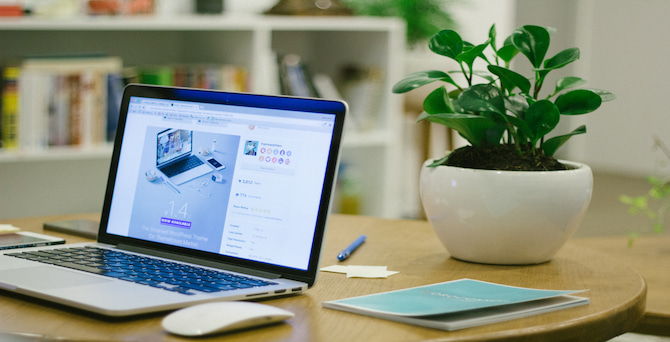 Step 6: Add Content to Your Author Website
Building an author website is all about organization. An organized author website is one that offers all the information an author wants to convey without overwhelming the user.
Deciding on what to include on your author website depends on how much information you want to share: Do you want to put out a general overview of yourself and your work? Or do you want to offer little golden nuggets of information that users won't find anywhere else?
Although creating an author website is in many ways subjective, there are some main categories that any good website should have. Here is a list of essential pages that you can use as a starting guide.
About the Author Page
This page should include a gripping author bio, along with an author photo. Don't be afraid to boast a little! Remember, your author bio summarizes who you are as an author and should make you appear relatable but also an authority on your subject.
Book Information Page
It's good to create a page that lists all of your published or forthcoming work. Each book listed should include a cover image, the title, subtitle (if any), type of binding (hardback vs. paperback), length (page count), and the publisher's information. Most importantly, you want to include links for users to buy your books (either directly from your website or from online booksellers).
You can then link each book to a separate page that describes the work in detail, along with any reviews and/or prizes the book has been awarded, or even shortlisted or longlisted for.
Mailing List Page
Mailing lists are essential to maintaining direct contact with your readers. Having a Mailing List page on your website enables users to register their interest in you and your work by providing you with their email addresses.
These are your fans! They will be eagerly awaiting any news about things like a new publication that's available for pre-ordering, a great interview you've recently given, an upcoming book signing event, or any other information you want to share with them.
MailChimp is an example of an email marketing company that can set up a signup form for your website, as well as create professionally designed newsletters for you to send out to readers.
Media Page
While the media page is certainly useful for your readers to see, it's mainly geared toward reviewers and the media. You want to use this page to include some great author photos of you, the cover artwork of your books, any positive press coverage you or your work have received, and testimonials and quotes by reviewers and other authors.
Basically, this is your boasting page! The more attractive it is, the more likely potential reviewers will be interested in contacting you.
Contact Us Page
This brings us to the Contact Us page. It's important for readers and potential reviewers to be able to easily contact you, whether through email or mailing address. Another efficient way of allowing others to contact you is to set up a "Contact Us" form, which enables users to input their name and email address in order to send you a message.
Social Media Buttons
Don't forget about social media! While you don't necessarily need an entire page dedicated to links to your social media accounts, it's important to include "buttons" to any social media pages you have, such as Facebook, Instagram, and Twitter.
This becomes a two-way street; you use your website to gain more followers on social media, and your followers on social media in turn generate more traffic to your website.
How Much Does It Cost to Create an Author Website?
Now you're probably thinking, "How much is all this going to cost me?" Well, the answer varies depending on which path you take when creating your author website. There are two routes to choose from: the DIY option, or hiring a professional web developer.
To start off, a beginner's author website with a customized domain would cost you $12–$25 per year, in addition to a monthly charge of $10–$15 by a hosting platform, which brings you to an average of $200 per year.
The DIY Path
This is the path we have been discussing so far. DIY website platforms, such as Squarespace and WordPress, enable you to set up your site for free, update it yourself, and link to your social media accounts, videos, mailing lists, etc. Of course, this is time-consuming, and some authors who are not tech-savvy might find themselves a bit overwhelmed.
In that case, there is the option of hiring a developer to help you with a DIY platform— basically DIY with some assistance. This will work out cheaper than hiring a developer to create a website for you from scratch. Think of this option as having someone enhance what is already there; you'd be asking the developer to customize certain features of your DIY website.
For basic customization that doesn't involve heavily changing the available website template, you might expect to pay somewhere around $1,000. However, if you are looking for extensive customization with advanced graphic design and additional elements, that price could go much higher!
The Custom Web Design Path
Of course, there is always the option of hiring a professional to create your website from scratch. You would need a comfortable budget for this option—expect a starting fee of around $10,000.
What you should get from a professional web designer or a design firm is a solid, professional-looking web design. Moreover, most professionals will offer updating and maintenance services post-website launch. But be careful! These will come at an additional fee, which usually starts at around $5,000.
Examples of Great Author Websites
To get you inspired, here are two author websites that we love. Although both are completely different, they each work in their own way and clearly carry their respective author brands. That's what makes them unique and on point!
Author of the bestselling Divergent series, Veronica Roth has an author website that is both exciting and inviting. At the top of her homepage is a carousel that offers visitors the following:
A one-line summary of Roth's impressive author bio and an attractive black-and-white photo, along with a read "more" button
A cover of, and link to, her debut adult novel Chosen Ones
A description of her bestseller Divergent, with a link to all her published work
A link to view her upcoming events with the simple prompt: "Can't wait to meet you at my next event!"
Roth's is an example of an author website that is easy to navigate and attractively designed, with conversational prompts and colorful backgrounds that match each book being promoted.
Jo Nesbo is the author of the Harry Hole detective crime novels; and sure enough, his website does have a Mystery vibe to it! This is achieved by the subdued black-and-white background, as well as the way all the pages are neatly hidden in the upper corner under the main "Menu." The design is therefore both minimalist and user-friendly.
Once you land on the homepage, you're met with a link to Nesbo's forthcoming novel Killing Moon, with options to buy it and/or read an extract. Also on the homepage is a photo of the author alongside the tagline "Learn more about the globe-trotting, rock climbing, book, film, and television-writing author who created Harry Hole." This sets up Nesbo not just as an author, but as an interesting person with varied hobbies and passions!
Concluding Thoughts
We hope that this article has shown you that you don't have to be an expert web designer to have an author website. Depending on your budget, you can either do it yourself, hire someone to help you, or enlist the services of a professional firm to build your website from scratch.
Whichever route you choose, just make sure that you keep your target audience in mind, and stay true to your author brand. Who you are and what you write about should shine through the moment a visitor lands on your website's homepage.
.
Read More
9 Hacks for Perfecting Your Book Research
Exploring the Different Types of Creative Writing