10 Ways to Improve Hybrid Learning in the Classroom
One can say that the educational scene has changed a lot over the past couple of years. With more people forced to stay at home, new teaching methods have emerged, making use of technology and engaging learners in different ways. One of these methods is hybrid learning which is becoming more and more popular.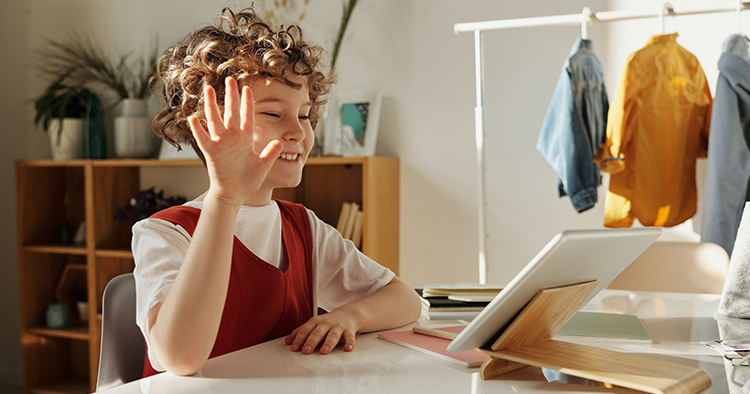 According to Campus Technology, 68% of students prefer having a combination of in-person and remote classes. This shows how important it is for educators to know everything about this learning environment and how to navigate it. And that's what we are going to explore in this article.
What Is Hybrid Learning?
Hybrid learning refers to teaching two groups of students, one in-person and another one online, at the same time. While the teacher is in class with the in-class group of students, the session is also live online to be viewed by remote students. In other words, hybrid learning happens both remotely and physically at the same time.
What Is the Difference between Hybrid Learning and Blended Learning?
There is a lot of confusion when it comes to these two terms. While they both use technology to deliver information, their methods are quite different. We can say that the main difference between these two lies in the location and the resources that each uses.
Blended learning refers to the incorporation of digital learning with in-class lessons. This means that learners have to attend in-person classes, as well as complete assigned online learning materials that supplement their school work. So the educators have to use both classroom teaching methods, like relying on textbooks and class activities, as well as online learning tools, such as online assessments and readings.
When we look at the hybrid learning definition, on the other hand, we find that it focuses both on the remote and in-class learners at the same time. In other words, the remote learner receives the same information as the in-class learner. The educators can then choose any teaching methods they prefer; they can use textbooks and video conferencing alone, or they can incorporate other Edtech tools, such as an interactive whiteboard or online games and quizzes.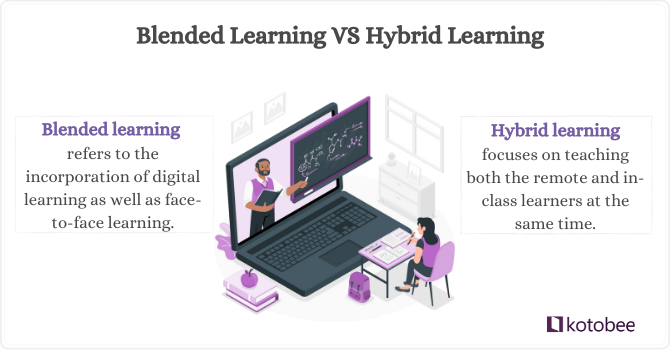 How to Deliver an Effective Hybrid Class?
It is understandable that teachers might find it challenging to implement this teaching method in their day-to-day school life. As they are used to focusing only on in-class students, having to design lessons that can be as effective online as it is in-person takes practice and planning. So let's explore some tactics that help in making hybrid schooling the best it can be.
1. Focus on both In-Class and Remote Learners
It's normal for teachers to focus on the learners sitting in front of them and pay less attention to those at home. But for a hybrid learning model to be successful, equal attention and clear instructions should be given to both groups. So make sure to check on the remote students, address questions to them, keep them equally engaged, and build meaningful interactions and conversations with them, just as you do with the in-class students.
Robert Puharich, the founder of TeenLearner who is a teacher of 16 years and has been teaching a hybrid model for two years, stresses on the importance of keeping the lesson extremely focused and the students engaged. He then adds, "Once students are given the go-ahead to work on an activity or the freedom to move on, it's very difficult to get the engagement back to where it was when it was originally focused. Whether the students are in class or online, having them all engaged in the discussion/task early will create a better learning experience rather than trying to keep them moving back and forth."
2. Plan with Remote Learners in Mind
Having to teach both in-person and remote learners at the same time can be overwhelming. However, just remember that it is okay to redesign the lessons plans to make them more suitable for your learning environment. Also, make sure that any in-class activities can be done by remote learners, and don't require any special resources that they might lack.
3. Make Your Voice Engaging
Another thing you should keep in mind is that your voice has to be expressive; imagine yourself as a radio host. Although the remote learners can see you through video conference software, if your voice isn't engaging enough and you try to use verbal cues as much as possible, you might lose them. The in-class learners will appreciate this as well.
4. Invest in EdTech
It goes without saying that a good hybrid learning environment makes use of different EdTech tools. Whether it is a good LMS, video conference software, or interactive ebook creation software, these tools enhance the learning process and help in engaging students. And a useful tip–that will make the students' life easier–is to use single-sign-on software (SSO) to avoid any "forgot password" hassle.
5. Use Interactive Activities
Games are always fun to implement in lesson plans. And no matter what the learners' age is, using a fun interactive online game can help bring the whole class together. You can also make use of these activities at the beginning of the lesson so that if there are any technical issues they'll be discovered and cleared out of the way.
Loic Bellet, a Business English Language Coach at Speak Proper English, says, "While you'll be teaching live, be sure to prepare asynchronous items for your remote students, such as projects, quizzes, discussion boards, learning processes, and grade center columns."
Craig Miller, Co-Founder of Academia Labs LLC, suggests creating interactive video lectures that students can review. He then adds, "It is best to insert questions in the middle of the lecture videos so students are also challenged. I suggest using the software H5P to insert questions along the course of the video and the students need to answer these questions correctly before they can proceed with the video."
6. Create an Online Community
One way to make remote learners feel included is to create an online community and engage them in group activities with in-class students. This way, you can assess the understanding and participation of each group simultaneously, and make them feel like one community.
Professor Jay Whitacre, the chief scientist at Aquion and a university lecturer on green energy, found creating an online community through which students can interact with each other to be very useful–through his 3 years of experience in hybrid learning.
He says, "At the end of each week, I place a prompt that the student has to reply to. Students are also allowed to reply, agree, and disagree with the replies of their peers. The aim here is to push students to share their reflection on prompts related to the course, and you can collect indicators on the acquisition of the concept covered during this week."
7. Pair In-Class and Remote Learners
Here is how you can make remote learners connect with both the teacher and their colleagues. Simply ask in-class students to log into the online session–whether by bringing their own devices or by providing them with one. Then encourage them to keep the chat open and pair with remote learners.
This strategy is known as Think-Pair-Share (TPS), where students collaborate to answer questions and solve problems. It is ideal for making remote learners feel included and for maximizing participation.
8. Appoint a Session Producer
Ensuring the live session is going well for remote learners would help you avoid a lot of hassle. You can simply achieve this by appointing a producer for the session and making him a co-host. This could be your teaching assistant or one of the students for older learners. The main job of this producer is to review the live online session, keep an eye on the comments, and ensure that everything is going smoothly.
9. Make the Learning Resources Available Online
Another really useful tactic is to make the learning resources available online, so both in-class and remote learners can access them anytime. You can include self-assessments, further readings, or even recorded lessons that complement live sessions. It is also useful in hybrid learning to provide parents with resources that help them navigate the distance learning environment, especially for young learners.
One way to do that is by using an ebook authoring platform to create interactive ebooks for your students. You can then either send it directly to them or host it online with managed user access.
10. Carry Out Learning Surveys
If hybrid learning is new to you, then you might want to get the learners' feedback. Carry out surveys that will help you design a better learning environment for both groups. Whether it is the parents who complete these surveys or the learners themselves, it is a great way to know what is working and what isn't, and to improve on that.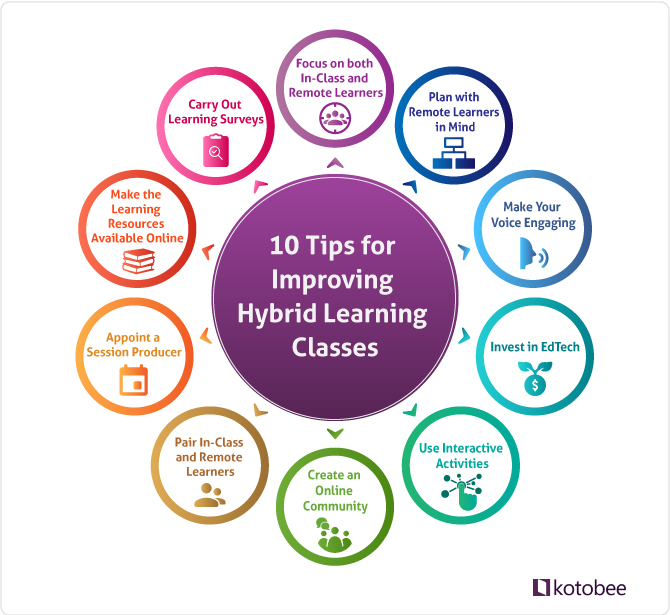 Final Words
The educational world as we know it has changed a lot in the past few years. That is why educators need to be up to date with the latest technology and teaching methods. They need to learn how to navigate this scene, and these tips will help them do just that. So let's make the best of it and provide the learners with the education that prepares them for a brighter future.
.
Read More
What Is Virtual Learning and How to Benefit from It?
5 Ways to Use Ebooks to Drive Learning in Classrooms