Best 12 Ebook Creator Software in 2023
Ebooks are all the rage these days, and it's easy to see why. The rise of digital reading devices such as tablets and e-readers, as well as the convenience of being able to carry hundreds of books in one lightweight device, has contributed to the growth of the ebook industry over the years. In fact, according to recent studies, the global ebook market is expected to grow at a compound annual growth rate of 7.7 from 2022 to 2027.
But it's not just readers who are benefiting from the rise of ebooks. With the surge in popularity has come a wave of ebook creator software programs that make it easy for authors, publishers, and businesses to create and publish their own ebooks. Whether you're a seasoned author or a newcomer to the world of self-publishing, there's an ebook creator out there for you. These ebook creator tools range from basic text editors to more sophisticated software with the ability to add interactive elements like audio, video, quizzes, and more.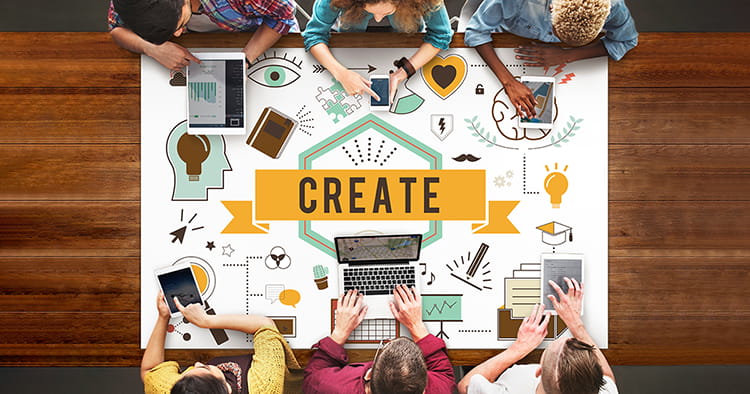 In this article, we will explore the top ebook creators available in 2023 and their different features, helping you to find the perfect software to suit your needs.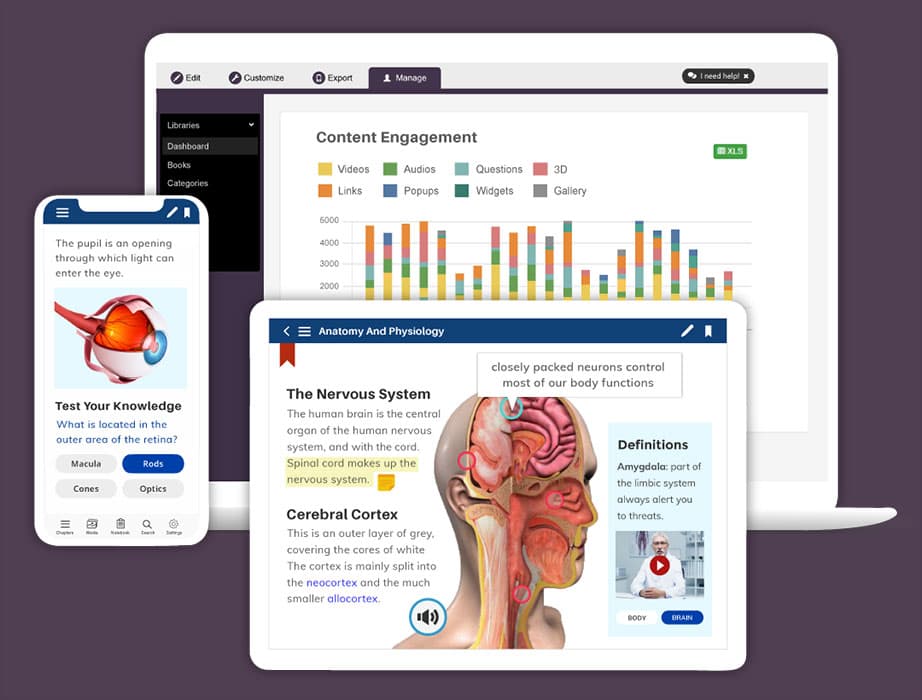 If you're looking to create an exceptional interactive ebook, then Kotobee Author is just what you need. From basic interactive elements, such as images and videos, to more advanced ones, such as interactive questionnaires and various ebook mini-apps, this software will help you provide your readers with an unforgettable reading experience.
The great thing about Kotobee Author is that it can be used to create ebooks for any field; from children's ebooks to marketing content for businesses, this platform offers all the features that help in making your ebooks a success. And if there's anything you need help with, their customer service representatives will be more than happy to answer all your questions in a timely manner.
Features
Kotobee has many features that allow you to create truly unique interactive ebooks. For example, you can:
Add various interactive elements such as pop-ups, audio, video, mini-apps, and games to increase readers' engagement.
Choose from over 3 million free photos and videos to make your content more visual.
Import content from existing PDF, HTML, Word, and EPUB files.
Choose from more than 70 templates that are suitable for various usages.
Brand your ebooks with your color schemes and logos.
Export to 12 different formats, including mobile apps.
Provide your readers with a customized reading experience.
Insert audio and enable the text-to-speech option by selecting the highlighted text.
Integrate your ebook with your organization's LMS such as Blackboard, Moodle, or Edmodo ) using SCORM, LTI, or Tin Can.
Select a reflowable or/and fixed layout for your ebook.
Protect your ebooks with DRM security.
Preview and emulate your ebook on more than 20 different devices.
Add your own scripting and custom styles using CSS, JS, and HTML through developer tools.
Collaborate with your team on creating and managing ebooks using Kotobee Cloud.
Languages
The interface of Kotobee Author can be changed to 19 languages, such as:
English
French
Spanish
Arabic
Portuguese
Deutsch
Italian
Exporting Formats
Offering its users over 12 different formats, Kotobee Author allows you to choose the one that best suits your needs. Here are just a few of these formats:
PDF
EPUB
Encrypted EPUB
Word Doc.
Web App
Desktop App
Mobile App (Android and IOS)
Mobi
Price
Kotobee Author offers a free version that comes with many useful features, but if you decide to upgrade, you can get it for only $150 paid once, or you can choose to purchase the premium version for $300. If you aren't sure which to choose, then head to the pricing page to know more about the difference between the different plans.
Best Suited for
Thanks to its ease of use, Kotobee can be used by anyone who wants to create unique and engaging interactive ebooks, including:
Digital publishing companies;
K12 and higher education students and teachers;
Instructors and trainers in any field;
Authors and writers of all genres; and
Business personnel and marketing teams.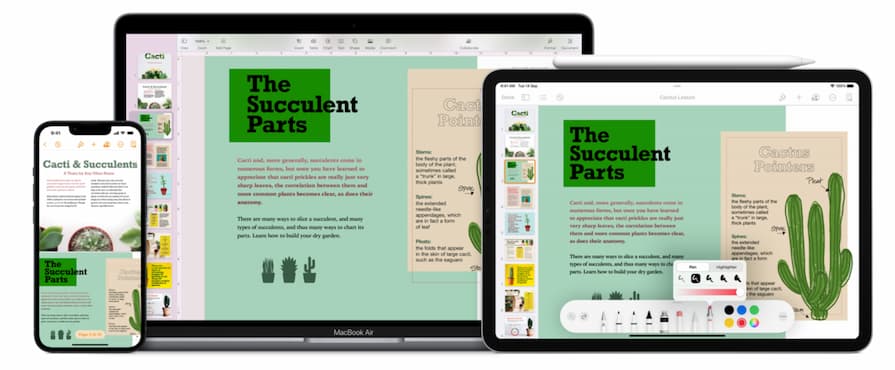 Pages is a word processing and page layout application developed by Apple. With its wide variety of templates and formatting tools, you can easily create professional-looking ebooks. It also has built-in support for creating interactive content, such as bookmarks, hyperlinks, and multimedia elements.
Features
Pages has many features that help you to easily create and publish ebooks. For example, you can:
Browse and choose from many templates or create a customized one.
Optimize the ebook mobile view for ease of use.
Translate certain parts by simply selecting the text.
Automatically generate the table of contents.
Publish directly on Apple Books.
Easily edit images using the Instant Alpha tool.
Collaborate offline with other authors.
Turn your handwriting (written using Apple Pen) into text.
Languages
Pages interface can be changed into many languages, including, but not limited to, the following ones:
English
Arabic
Chinese
Danish
French
German
Greek
Italian
Japanese
Spanish
Exporting Formats
Price
The best thing about Pages is that it is free for all Apple users!
Best Suited for
Pages can be used by those who want to create professional-looking ebooks on Mac or iOS devices, including:
Students;
Freelancers and small teams;
Larger corporations that don't need advanced ebook creation features; and
Authors who need to collaborate on a manuscript.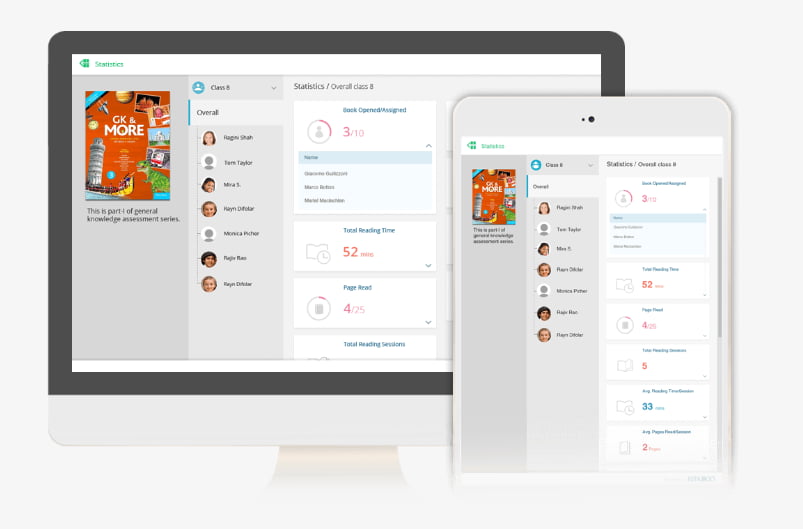 As a cloud-based software, Kitaboo is a good option for creating ebooks online; it doesn't need constant updates and won't take space from your pc hard drive. It also provides a range of tools and features for creating and customizing ebooks, such as the option to add interactive elements. The platform supports a variety of devices and operating systems, including desktop computers, laptops, tablets, and smartphones.
Features
While you can't use Kitaboo without an internet connection, there are many useful features that you can find once you're able to access it. These features allow you to:
Drag and drop interactive widgets.
Protect your ebook with a password and DRM security.
Instantly preview your ebook in all device sizes.
Convert your PDF online to EPUB.
View analytics and reports for tracking your ebook usage.
Customize ebook templates.
Add a text-to-speech option
Languages
Kitaboo's interface comes in English. However, its text-to-speech feature supports multiple languages, including Italian, French, German, and many more.
Exporting Formats
Price
Kitaboo offers a free demo with one of their representatives in which you'll be able to know more about their features and they can better understand your needs to give you a customized quote accordingly.
Best Suited for
Corporations and employee training
K-12 and higher education
Authors and digital publishers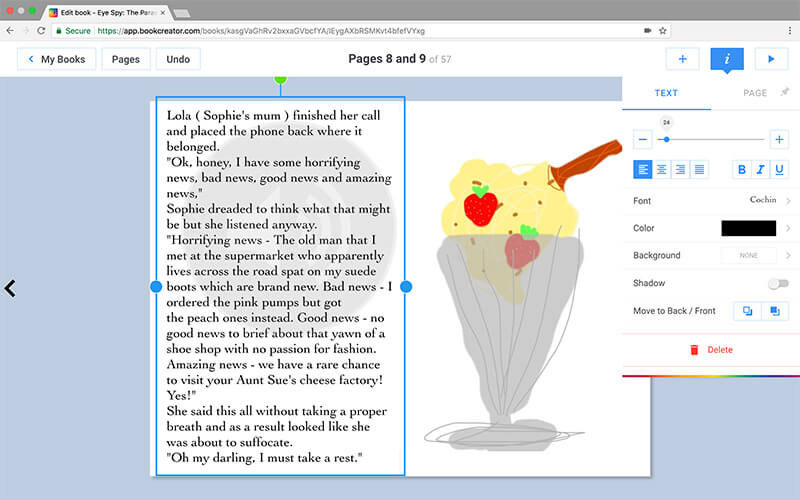 This is a user-friendly platform that allows you to create, publish, and share your own interactive books. With the ability to add a range of creative elements, including images, audio, video, and more, Book Creator brings stories to life in an entertaining way.
Book Creator is primarily an online platform. It can be accessed through a web browser on any device with internet access. There is also a version of this software that is downloadable for offline use on iPads.
Features
With its simple interface, Book Creator includes many easy-to-use features. Here are some of the things you can do using this software:
Choose from multiple playful fonts for kids
Add images, videos, or audio files.
Select a portrait, square, or landscape layout.
Draw and annotate using the Pen tool.
Collaborate in real-time with other authors.
Browse 18 templates and themes to choose from.
Activate the text-to-speech option.
Embed content from other websites using the AppSmashing feature.
Languages
English
Exporting Formats
Price
Book Creator offers a free plan with many useful features, but if you wish to upgrade, their premium plans start from $12 monthly. The iPad downloadable version of this software costs $2.29 one-off per device.
Best suited for
This platform is specially designed for educators and school teachers. It can also be very useful for students and storytellers.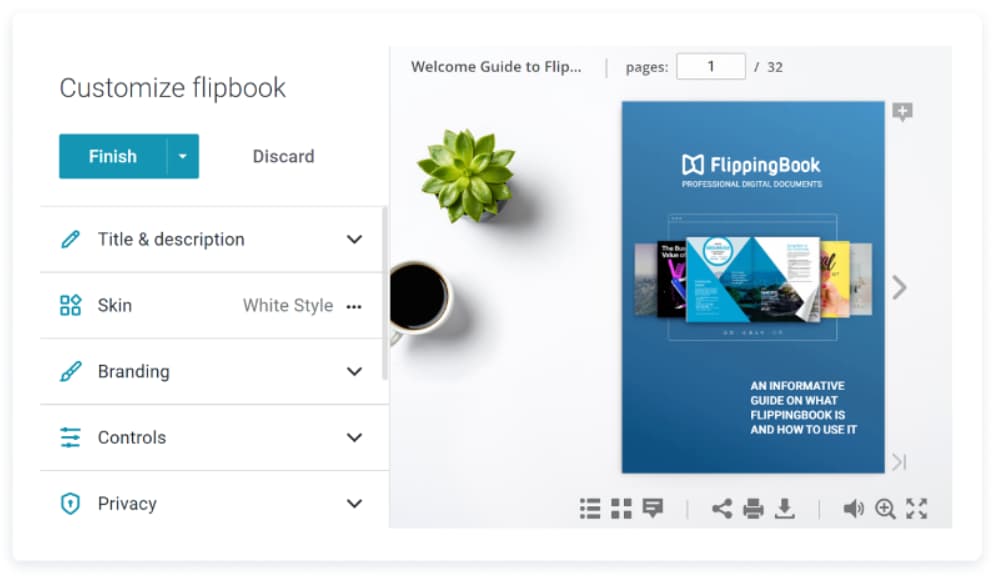 This online digital publishing platform transforms static PDFs into interactive, multimedia flipbooks. With a stunning page-flipping effect and a range of customization options, FlippingBook brings boring PDFs to life, making them engaging and responsive.
There is a downloadable version of this software, allowing Windows users to create interactive flipbooks offline.
Features
Creating flipbooks–both online and offline–is what this software is all about. It provides you with the necessary tools to:
Embed videos, images, GIFs, and outbound links.
Add your brand identity to ebooks.
Customize built-in lead capture form.
Integrate with your CRM.
Measure users' engagement with your ebook content.
Languages
While the web version of Flippingbook comes mainly in English, the interface of the Windows version is available in 17 languages, including:
English
German
French
Italian
Spanish
Japanese
Simplified Chinese,
Arabic
Exporting Formats
Interactive HTML5 publications (Web apps)
Price
The pricing plans of the online version start from $19/month and go up to $179/month. While the price of the desktop version is $699 for professional users and $1,199 for business accounts.
Best Suited for
Professionals in any field can make great use of this software, especially those working in:
Business and marketing teams
Digital publishing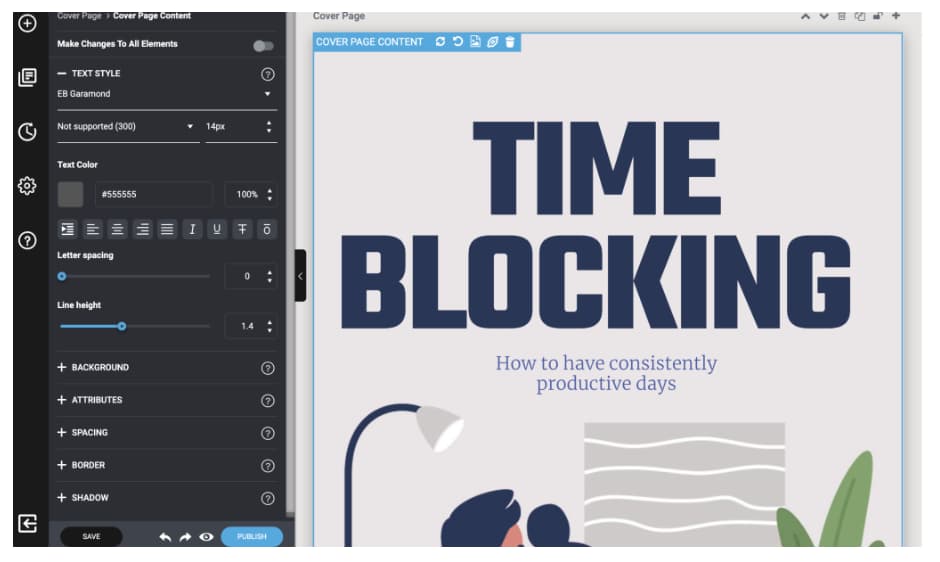 Described as "the Zaper of Content," Designrr allows you to convert blogs, videos, podcasts, and other content into ebooks and flipbooks. With a user-friendly interface, a vast library of templates and elements, and the ability to export your designs to a range of formats, Designrr makes it simple for you to reuse your already existing content and turn it into eye-catching ebooks.
Features
When you use Designrr to repurpose old content (or create new ebooks from scratch), you will be able to:
Choose from over 100 templates.
Import content from blogs, websites, Facebook, YouTube, and even videos and audio files.
Add an automatically generated table of contents.
Access a free image library.
Languages
English
Exporting Formats
Price
The pricing packages for Designrr start at $29/month and go up to $99/month. The great thing, however, is that there are often discounts found on the website; so make sure to keep an eye out to get the best deal.
Best Suited for
Since Designrr allows for importing content from many different sources, it can be useful for:
Small businesses and marketing professionals
Course creators
Magazine publishers
Podcasters
Video creators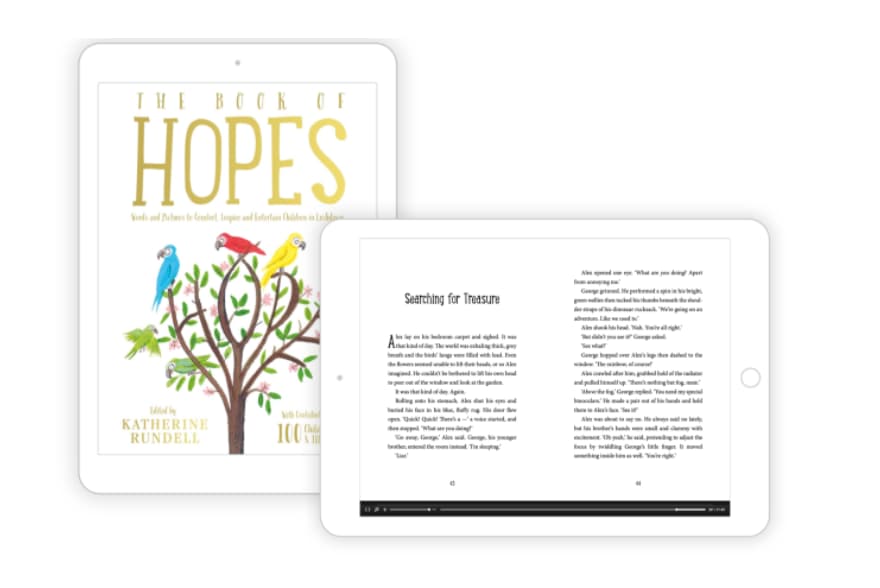 Issuu is not only an online publishing platform, but it also allows you to sell your publications through it and share them anywhere. Moreover, it enables you to create flipbooks, social media posts, and GIFs. This makes it a cost-effective and convenient way to reach millions of readers worldwide with well-designed, engaging content.
Features
The features available on Issuu vary according to the nature of your projects. As an ebook creator, you can:
Directly sell your ebook through Issuu's website.
Embed ebooks directly on your website.
View readers' statistics to track how many times the ebooks were downloaded, the average reading time, and the number of link clicks within your ebook.
Add videos and links to your ebooks.
Collaborate with other authors, allowing multiple people to work on the same content simultaneously.
Languages
English
Exporting Formats
Price
Issuu offers a free version that has some limitations (like allowing 50 pages only per upload and not blocking 3rd party ads). Their annual plans start from $19/month and go up to $40/month for the premium version.
Best suited for
This software is used to create engaging content for promotion purposes; it's especially useful for:
Content marketers
Digital publishers
Social media specialists
Sales teams
8. Flipbuilder (Flip PDF Plus Pro)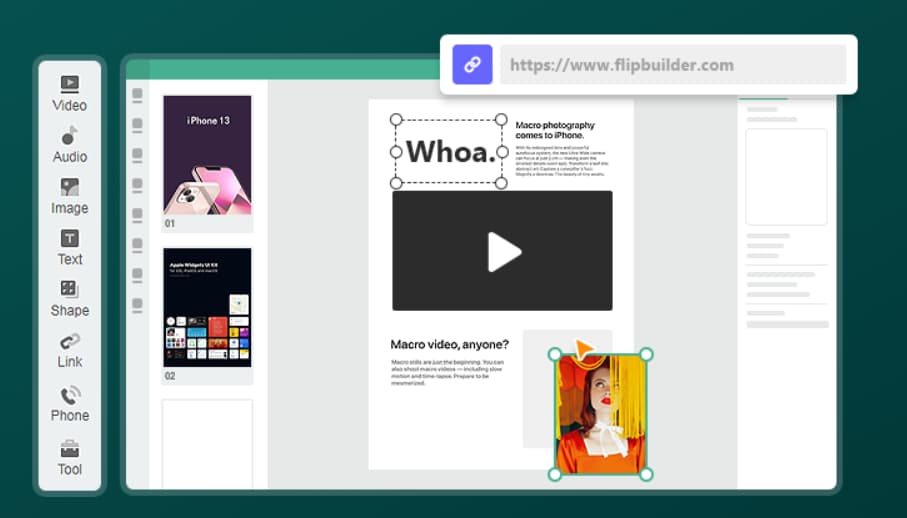 Using Flipbuilder, you can convert your static PDF and images to interactive flipbooks, brochures, magazines, photo books, and catalogs. With its realistic page-flipping effect and a wide range of customization options, Flipbuilder makes it easy to create engaging digital publications that can be viewed on any device. It's available for both Windows and Mac users.
Features
If you are planning on using Flipbuilder to create your ebook, you will be able to:
Use the multimedia editor to insert videos, images, links, and action-triggered animations.
Convert PDFs to HTML5 flipbooks.
Choose from built-in templates, themes, and scenes.
Customize your ebook covers, toolbars, and backgrounds.
Host your flipbooks online.
Make use of their built-in marketing tool.
Languages
Flipbuilder's interface comes in many languages, including:
English
Arabic
French
Spanish
Danish
German
Exporting Formats
HTML5 (Web app)
EXE
Mobiles apps
APK
WordPress Plugin
Price
There is a one-time fee for their software that starts at $129 for individuals and goes up to $700 for corporations.
Best suited for
Digital publications
Family photo books
Small businesses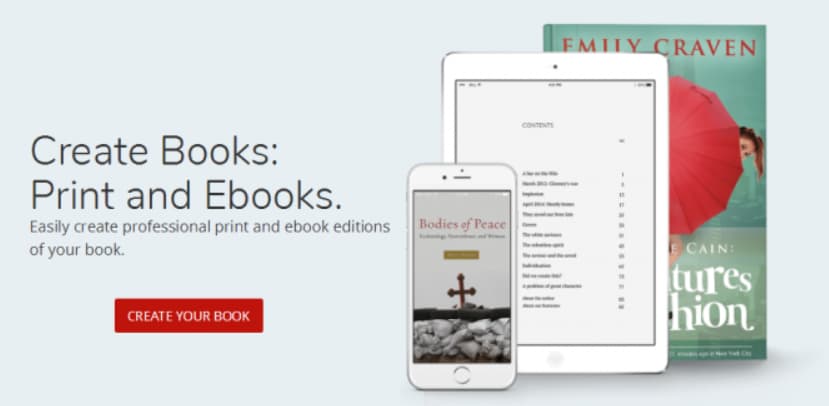 This software is specially designed for open publications, to help teachers and academic institutions in building and sharing ideas. The tools Pressbooks offers facilitate creating, adapting, and sharing educational content. They also have a directory with over 4000 books to browse, adapt, or share. By creating an account on Pressbooks, you'll be able to start your free trial, create educational ebooks, and access a lot of useful interactive content.
Features
If you are an educator, then you'll find that Pressbooks offers a lot of features that facilitate the creation and sharing of ebooks and that are especially useful for your profession. These features allow you to:
Integrate your ebooks with your institution's LMS.
Add multimedia elements.
Choose from various themes.
Include plugins (such as QuickLaTeX and TablePress)
Create interactive quizzes and activities.
Have a single sign-on (SSO) for your hosted ebooks.
Languages
Pressbooks allows its users to create ebooks in 2 main languages, which are:
Exporting Formats
Price
Pressbooks offers a free trial that comes with many limitations (such as watermarks and not having access to ebook analytics). Their plans start from $12/month and go up to $40/month.
Best suited for
Even though this platform is designed for educational purposes (as it's used mainly by teachers and college professors), it also holds great value for:
Writers;
Researchers and scholars; and
Publishers.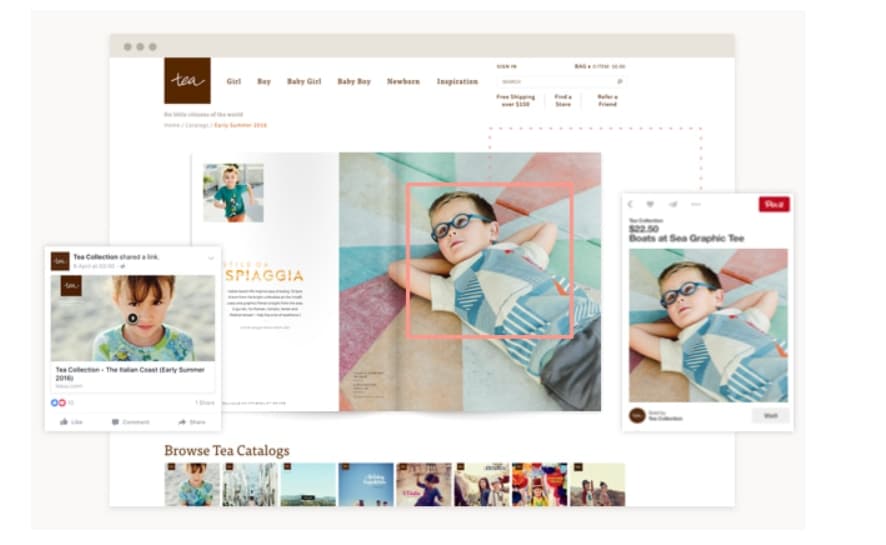 This downloadable software aims at helping businesses create (and host online) powerful content for their audience. With the option to customize the shareable URL of your flipbook, you will be able to share content online with your readers without taking up valuable storage space on their devices. Moreover, FlipHTML5 offers a seamless reading experience, allowing your flipbooks to work on all modern desktop web browsers and mobile devices.
Features
The features that come with this software allow for creating engaging flipbooks, just like real-life magazines. They will enable you to:
Choose from 10+ customizable templates.
Add basic interactive features (videos, audio files, and links) and animations.
Get a custom domain for your ebooks
Host your flipbook online for free.
Integrate your ebooks with Google Analytics to view readers' analytics and statistics.
Convert your PDF ebooks to flipbooks.
Languages
The user interface of FlipHTML5 comes in 17 languages, including:
English
Japanese
French
German
Spanish
Italian
Chinese
Arabic
Exporting Formats
Interactive HTML5 publications (Web apps)
Mobile app
Price
FlipHTML5 offers a free trial with many limitations (such as a daily upload limit of 5 flipbooks, displaying a watermark, and having a page limit of 500 pages/upload). Their paid packages start from $12.5/month, and go up to $83.5/month.
Best Suited for
This software can help different business teams in various fields, such as:
Digital publishing
Marketing and sales
Public relations (PR)
Small businesses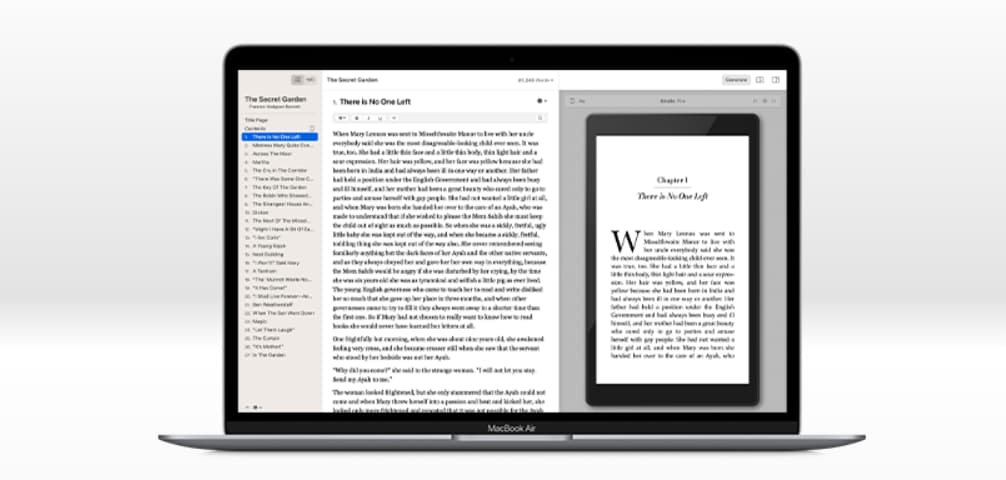 If you are a Mac user who is looking for an ebook creator, then you might want to give Vellum a try. With a sleek interface and intuitive tools, Vellum makes it simple to create beautiful ebooks that look great on all devices, including desktops, laptops, tablets, and smartphones.
It also provides a print option if you'd like to create physical copies of your ebooks. And the best thing is that you can use its free trial version before deciding to purchase it.
Features
Even though the interface of Vellum is minimalistic, it has some great features. For example, you can:
Automate the setup of margins, page numbers, headers, and footers
Use drop caps, embedded fonts, and flourishes.
Import your already existing manuscripts.
Browse through templates to find the right one for you.
Preview the ebook to see how they look across devices.
Easily update your ebooks.
Languages
Exporting Formats
Price
Vellum's license for creating an unlimited number of ebooks only is $200, while Vellum Press for creating an unlimited number of ebooks and prints is $250.
Best Suited For
This software is designed especially for writers and authors who want to create static ebooks, with the print-on-demand option.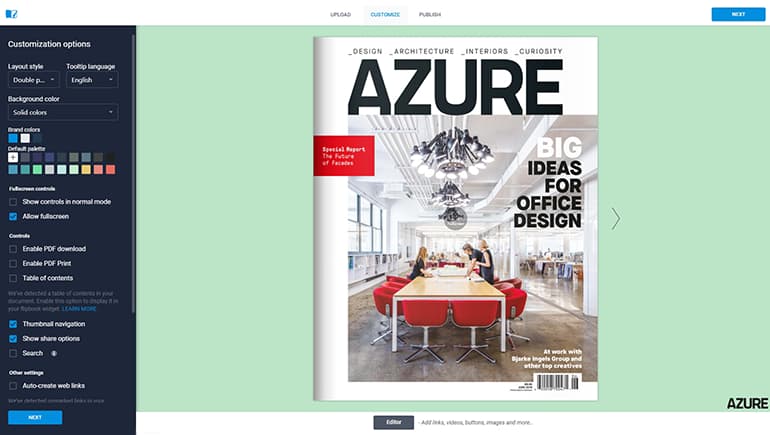 Using Flipsnack's cloud-based platform, you can turn PDFs into interactive flipbooks and easily share them with your audience. With a user-friendly interface, this website provides a range of tools to create engaging digital books, including adding images, audio, video, and more. Moreover, their editor makes it easy for anyone to create a professional-looking ebook, regardless of their technical expertise.
Features
Flipsnack offers many features that help make your ebook stand out. For example, using its online editor, you'll be able to:
Include interactive features such as links, buttons, videos and GIFs, photo slideshows, and product tags.
Add your brand identity, logo, and colors.
Directly embed the flipbook to your website.
Attain a shareable link for your flipbook.
Promote your ebook on social media and send it via email.
Track readers' statistics (number of impressions, views, downloads, and shares).
Get a 20-second shareable video of what your flipbook offers.
Protect your ebooks with a password.
Languages
The Flipsnack interface can be changed to 27 different languages, including:
English
German
Spanish
French
Italian
Russian
Turkish
Swedish
Exporting Formats
Price
Flipsnack offers many plans for individuals and enterprises that start at $14/month and go up to $355/month.
Best Suited for
Designed especially for marketing, this software can be beneficial for:
Corporates,
Small businesses
Entrepreneurs
Final Thoughts
The world of digital publishing has seen significant growth in recent years, and with it has come a rise in the number of ebook creator tools available. Whether you're a teacher with a lesson to share, an author with a story to tell, or a marketing pro with a message to spread, there is a solution out there to help you bring your content to life.
If you're looking for ease of use, versatile features, or comprehensive options, you'll find an ebook creator to suit all your needs and budget. By making use of the ebook creator tools we mentioned in this article, you can make your stories, lessons, and ideas both engaging and interactive, reaching a wider audience and creating a truly immersive reading experience.
.
Read More
How to Create an Interactive Ebook: A Step-by-Step Guide
Ebook DRM & Security: What is it and How it Works