How to Create an Interactive Ebook: A Step-by-Step Guide
Ebooks are the new norm in education, publishing, and many other fields. Add interactive content and you've got yourself a top-notch product that is sure to put you ahead of the game. But to do that, you need to understand first what interactive ebooks are and how to make an outstanding one.
This comprehensive guide will lead you through the journey so that you know how to make an interactive ebook. You'll also learn how to publish and distribute the ebook to different platforms. Starting with building your content to choosing your preferred online and offline tools, we'll give you the answers to the most common questions writers ask.
In this article, you'll find:
What Is an Interactive Ebook?
An interactive ebook is simply a book that the readers can interact with, making the reading experience more engaging. This doesn't merely refer to GIFs and animated images; you can definitely go way beyond a moving digital picture. You can provide experiences rich with reader engagement as they play touch-based games, answer questions, and even participate in polls or send feedback —all inside the ebook.
Important Read: What Is an Interactive Ebook? Everything You Need to Know
Why Should You Create an Interactive Ebook?
One might wonder, and rightfully so, what makes interactive ebooks so great? Well, the benefits this type of ebooks offers make the process of creating them worthwhile. Here are a few examples of how they can help you:
Better Engagement
The ability to interact with the content makes these ebooks way more engaging. This in turn affects the way readers retain information–which makes them perfect for education, training, and marketing. By breaking the linear format of static books, interactive ebooks open new possibilities for delivering information, making the reader more immersed in the reading experience.
Allows Collaboration
One of the most practical things about interactive ebooks is that more than one author can collaborate on creating and editing them. You can give others permission to apply changes, list, download, and publish ebooks. And if you are an educator, you can follow up on your students' learning progress, check their answers to questions inside the ebooks, or see if they've highlighted any parts that need extra explanation.
Cost Effective
We all know that publishing a physical book costs a lot! Digital and interactive ebooks, on the other hand, offer a more affordable alternative. Not having to print multiple copies, it doesn't matter how many times people download your ebook, the cost of production stays the same. And let's not forget how ebooks are way more environmentally friendly than printed books.
Easily Updatable
When it comes to interactive ebooks, adding information or changing parts of your ebook can happen with a click of a button. This is especially true if it is a cloud ebook, where the changes you make are automatically applied to the ebooks your readers have access to. You can also add notes or highlight certain parts of your book, and upgrade the various interactive features in it.
Various Usages
Interactive ebooks are useful in many fields. This is true to education and training as it is to literature and travel documentation. Switching from static to interactive books in any field is a sure way to improve engagement and enhance the reading experience.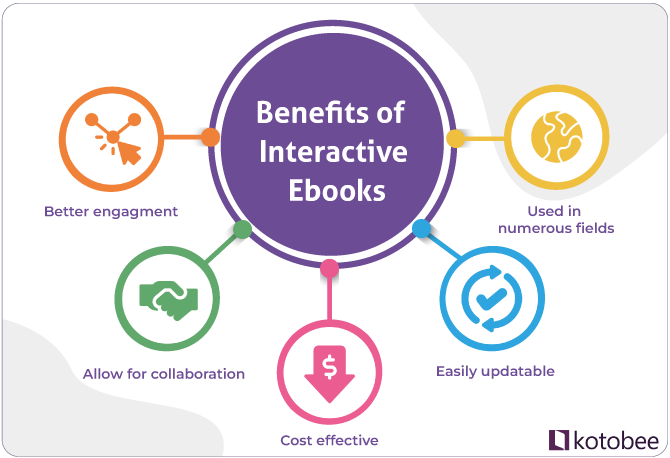 Creating Interactive Ebooks Step-by-Step
It's easier to reach your goal when you carefully plan for it. Similarly, before you start creating your interactive ebook you need to get a full idea of all the steps you have to go through. These steps include: preparing the content and the design, publishing, and finally marketing. So let's go through each of these steps in detail and understand exactly what you have to do in each one.
1. Content
Interactive ebooks consist of two things: text and interactive features. While the text is indeed the hero in most cases, the interactive features are there to help elevate your ebook in ways that static ebooks (those with text and images only) can't.
a. Text
As fun as it is to add interactive content to your ebook, it's also easy to get so caught up in it, that you almost forget the writing. The good thing is that nearly all interactive ebook software allows you to write your ebook directly into the software or import it from a word document, PDF file, or even an old EPUB that isn't interactive.
If you're worried you don't have the time or the writing skills, you can hire a ghostwriter and an editor. Ghostwriters will do the writing for you, and they won't ask to be mentioned in your book as an author. Editors will take your writing and edit/proofread it as necessary.
Read More: Writing Process Explained for Non-Writers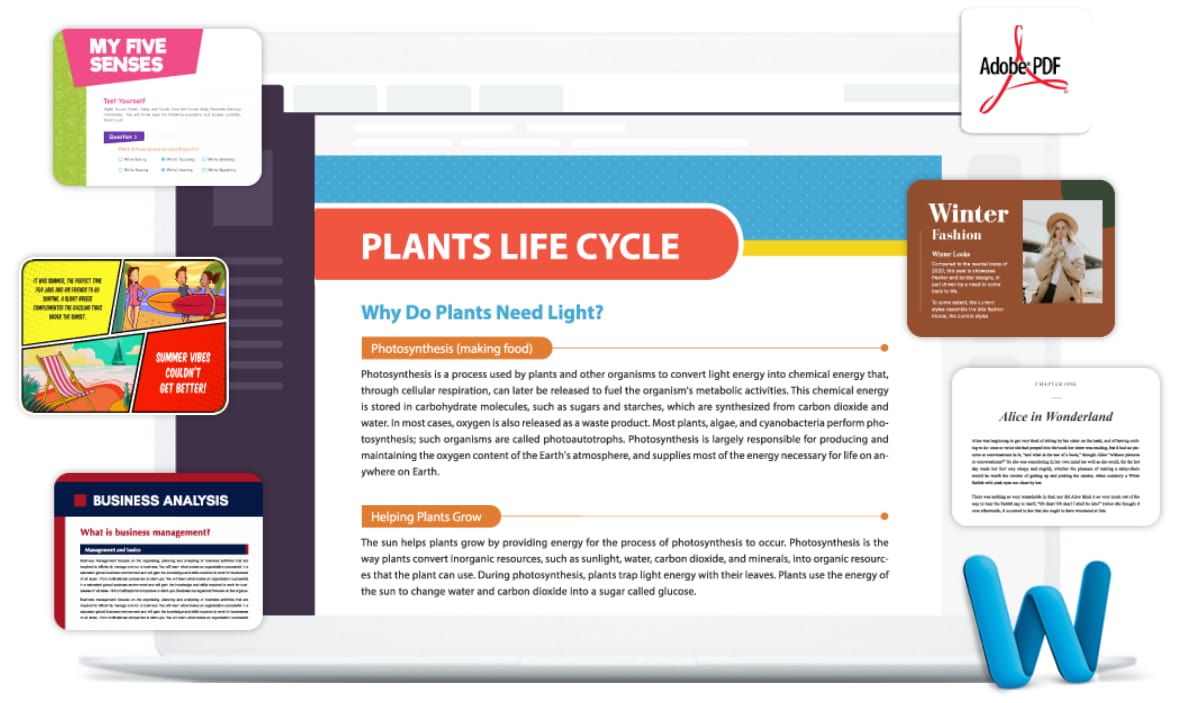 b. Images
We are visual creatures; that's why you should add as many images and illustrations as you see necessary. One way to do this is by using stock photos from sites like Dreamstime, Depositphotos, iStock, Freepik, Freeimages, Pixabay, Pexels, and even Canva.
Always make sure to optimize images as much as you can, since many ebook publishing platforms have limitations with media. If your ebook is an online app (relying on internet bandwidth), large-sized images taken straight from a digital camera without optimizing can lag down performance and cost you visitors.
Here are some websites where you can optimize your images:
Compressor.io: Shows you the image before and after optimizing.
Tinyjpg: Good for batch processing.
IrfanView: Can batch optimize hundreds of images in seconds.
Important Read: How to Optimize Images for Your Ebook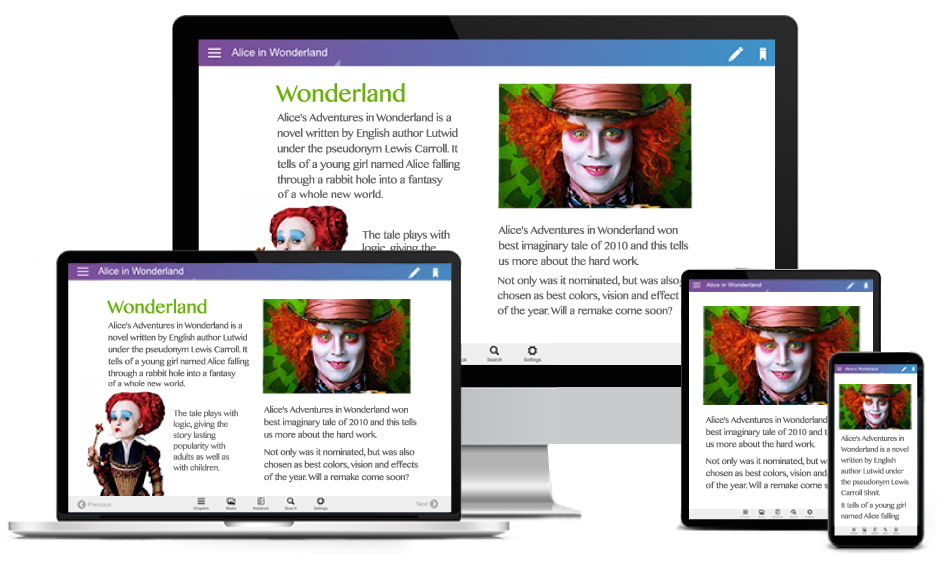 c. Interactive Features
Your ebook assets are all your visuals, audio files, and interactive content. These assets can either be added after writing your book, or you can incorporate them in the process. It's important, however, to make sure that the images, visuals, and audio files you add aren't copyrighted, and that their size isn't too big for your ebook.
i. 3D Images
You want to travel the world with your readers. Show them Michelangelo's David from all angles, the bellies of exotic creatures from the Amazon Rainforest, or the ins and outs of an old-fashioned typewriter. If you don't have 3D models, it's ok. Sketchfab hosts the work of 3D creators around the world. You'll find free ones and pricey ones. All of them are easy to add to your ebook.
ii. Videos
Are you writing an ebook filled with how-to videos? Or a more academic ebook about the socio-economic implications of the rising YouTube industry? Either way, you'll need plenty of videos. If you need a custom-made video, you can hire a freelancer from a site like Freelancer or Fiverr. Once you have the videos selected and ready, comes the exciting part: adding videos to your ebook.
The best option is to first optimize your videos and then add them to your ebook. If you optimize the videos well, the MP4 files should be well under 50MB.
The second best option is to embed the videos from other sites like YouTube or Vimeo or your own website. If the copyright limitations do not allow embedding, then you can simply add a link to the video in your ebook. That way, your readers can watch the video directly from the hosting websites. Unfortunately embedding and linking to the video, means that your readers will need to have internet access to view the videos.
If you don't know how to optimize videos read our blog post: How to Optimize Videos and Add Them to Your Book.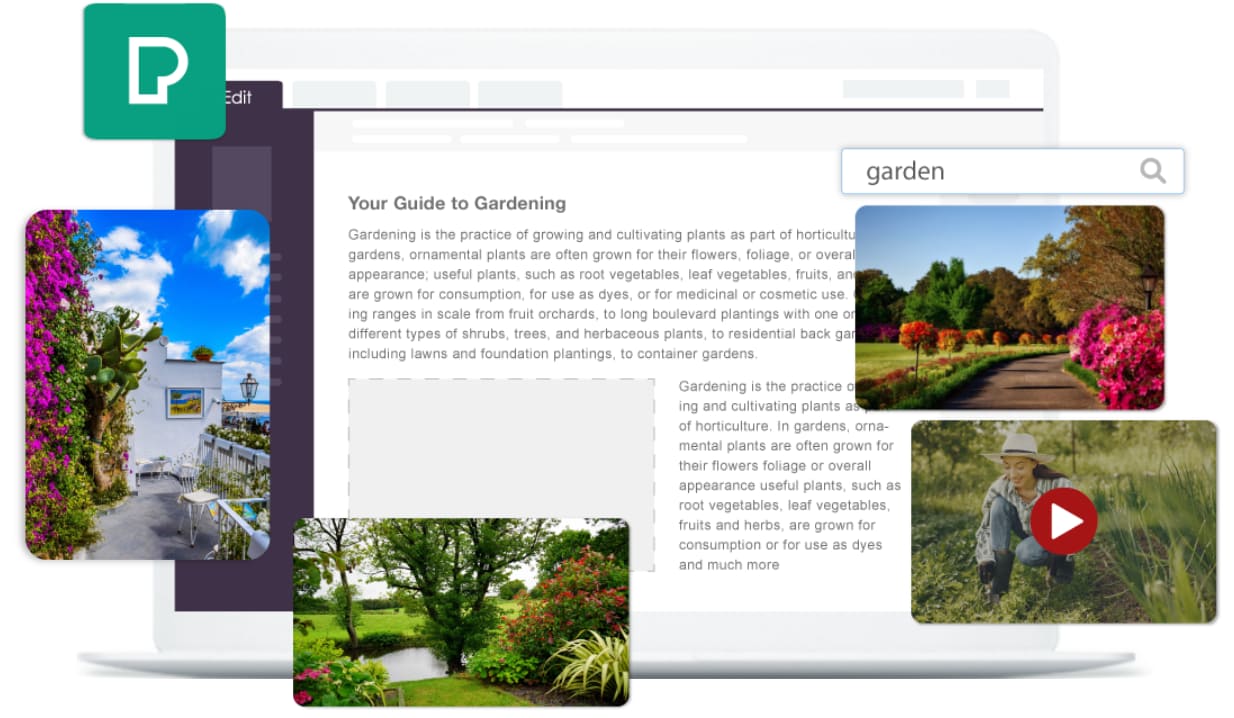 iii. Audio
Similar to videos, you can upload small MP3 files, but it would be better to upload the sound files to an mp3 hosting site like Soundcloud and then embed them in your ebook.
Another cool option for adding audio in your ebook is through using the text-to-speech feature. You can find this option in many ebook creators, including Kotobee Author.
If you want tones, sound effects, or background music, you don't need a full orchestra, band, or even a synthesizer. You'll find plenty of sounds ready to go online at sites like Dreamstime or Soundsnap.
Read More: How to Optimize Audio for Your Ebook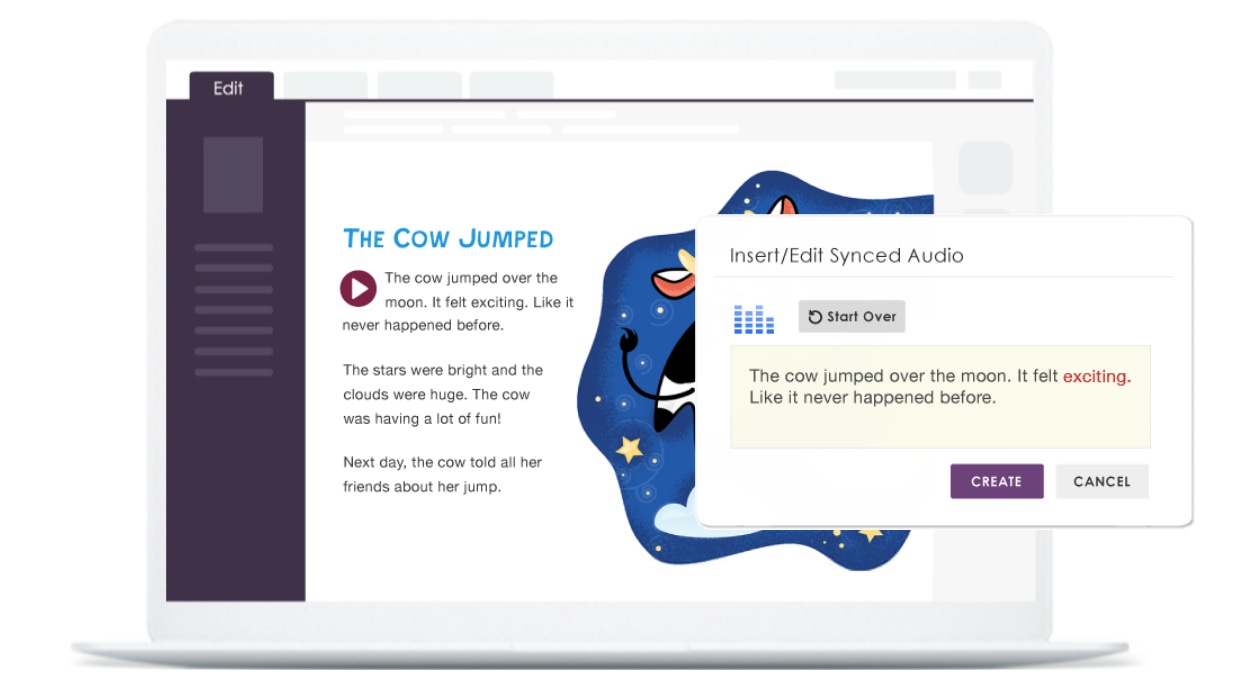 iv. Book Apps and Widgets
Book apps and widgets are like miniature apps that your readers can use while they read. They can be as simple as calculators or as complex as games. Your readers can send you messages as they read your ebook. You can have a live video from Ustream, a real-time Instagram gallery, or even a real-time Twitter feed in your ebook.
First, find the app you want. You can check out Kotobee's Mini-apps, Book Widgets, or Bookry. Follow the instructions to purchase and download the widget. Then, follow the instructions of your interactive ebook creation platform. You'll be surprised how quick and easy it is.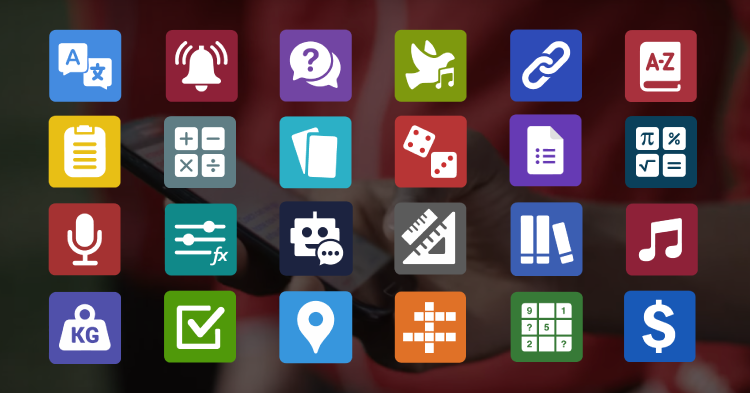 v. Questions
This interactive feature is especially useful in educational ebooks. Because what is a better way to keep students on their toes and help the information stick than to include quizzes and self-assessments?
These assessments could be in the form of MCQs, true or false, short answers, or drag-and-drop questions. The score can then be calculated automatically, and you can review a report with the answers of each reader.
Important Read: The Power of Questions in Interactive Ebooks
2. Design
Your ebook design is just as important as the text and interactive features. The human eyes are immediately drawn to colors and images, which (when chosen carefully) can help elevate your ebook and make it stand out from the competition. So let's take a look at the different components of your ebook design.
Cover
For some authors, the cover design is done while they're still thinking about what they want to write. For many others who have a way with words, but not with images, it can be a daunting task. Luckily, there are many websites, such as Canva and Venngage, that make this task easier. And here are a few tips that will help you create an outstanding cover:
Pick a descriptive image.
Use complementary colors.
Make the text easy to read.
Give the element space to breathe.
Keep things simple.
Experiment and have fun.
Important Read: 9 Ebook Cover Tips for Beginners
Layout
When creating an ebook, there are two layout formats you can choose from a reflowable layout or a fixed layout. Each one has its uses, advantages, and drawbacks. It all depends on what you're creating and who you're creating it for.
Fixed Layout: With a fixed layout, you'll set precisely where the ebook content (text, images, etc.) will be on the page. This layout is ideal when you want everything to stay in its place regardless of the screen size or orientation.

You can overlap elements or place them side by side and when your readers zoom in or out, it will be the same as zooming in or out on a photograph. So for example, when your readers zoom in, the whole page will expand beyond the borders of the screen. The reader will need to use the vertical and horizontal scroll bars to see the rest of the page.
You should choose this layout if your readers will be reading your ebook from a desktop computer, like some LMSs that deny mobile access. If you're writing magazines, comics, or children's storybooks, you'll probably prefer a fixed layout as well.
Reflowable Layout: The second type of layout optimizes the content for the viewing screen's dimensions so that readers simply scroll through each chapter. This option focuses on the content, not the layout. You will simply determine the order of the contents of each chapter, and they will appear in your ebook in the same order.
One of the advantages of the reflowable layout is that each user can adjust the font size according to personal preference. The same can be said for the screen size. The layout and interactive content will automatically adapt by wrapping and increasing page length, thus enhancing the reading experience, especially on smaller screens. For example, most blog posts and news articles pages are reflowable.
This is the more popular form of layout for reading on mobile devices as it makes viewing more comfortable for most readers. If you're writing a short story or novel, your readers will want you to choose the reflowable layout.
Kotobee allows you to use both layouts in the same ebook. The reflowable layout is the most comfortable for your readers, no doubt. But sometimes you'll want or need to include a design-rich page. For example, on the first page of a history chapter, you can add an interactive timeline that extends horizontally, which will have to be a fixed layout. The rest of the chapter, however, will be reflowable to make reading easier. The uses are endless, but they shouldn't ruin the reading experience of the rest of your ebook for your readers.
Important Read: Best Ebook Layout Format: Reflowable or Fixed?
Reader Interface Branding
If you decide to publish your ebook on a platform with a ready-built reader (like Apple Books or Kindle) you won't be able to change anything in the reader's interface. If you choose to publish an ebook app instead, you'll have full access to build your reader from the ground up.
The upside of going through the trouble of creating your own reader within your platform of choice is the ability to brand it and theme it for your audience. This would be perfect for companies that have their trademark theme embedded in their ebooks interface.
Important Read: Ebook Branding: How and Why to Do It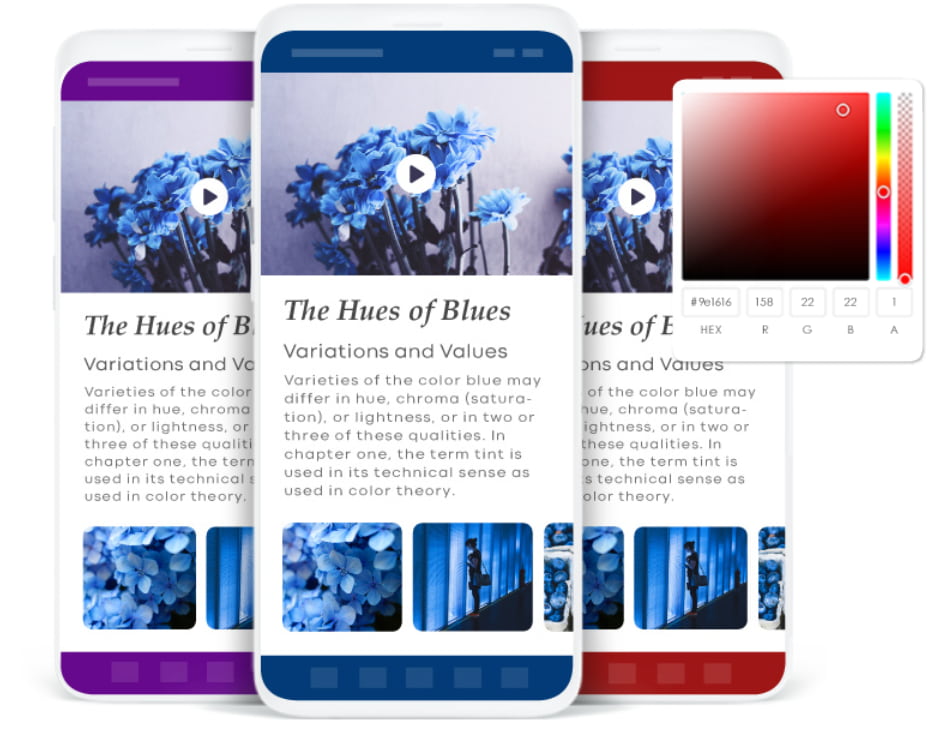 3. Publishing
Writing and editing your ebook isn't the end of the story; now you've arrived at the last step of the process, and that's getting your ebook ready for publishing. Here are some of the things you have to consider:
a. Publishing Method
Now that your book is ready to be published, you need to decide which publishing method you're going to go for. There are a few methods you can use to get it done, which are:
Traditional publishing, which requires finding a book agent, takes away the hassle of the publishing process from the author and places it on the publisher.
Self-publishing, which puts you in control of the creative process, might be a lot of work for some authors.
Hybrid publishing, which combines the best of both worlds, gives you control over the creative process while you don't have to do the work yourself.
If you'd like to know more about the pros and cons of each method, you can get more information by reading these articles:
b. Digital Publishing Platforms
If you decide to go the self-publishing route, then you might be thinking where is the best place to publish your book. You can, of course, publish it on your own website. But if you'd like to reach a wider audience, consider publishing it through a book aggregator or on a digital publishing platform.
Given the many platforms and book retailers out there, picking one might be a little tricky. The differences between these platforms mainly lie in the services they offer, the royalties you'll get, and the file formats they accept.
Here are some of the most well-known publishing platforms:
c. File Format
Selecting which file format to export your ebook depends hugely on where you want to publish it and how you want to distribute it. Standard ebook file formats have the potential to serve multiple, yet different purposes. The different formats also affect how interactive your ebook is, which devices it can be read on, and if the ebook will have a DRM or not.
In the table below, you can find the different ebook formats and the features of each one.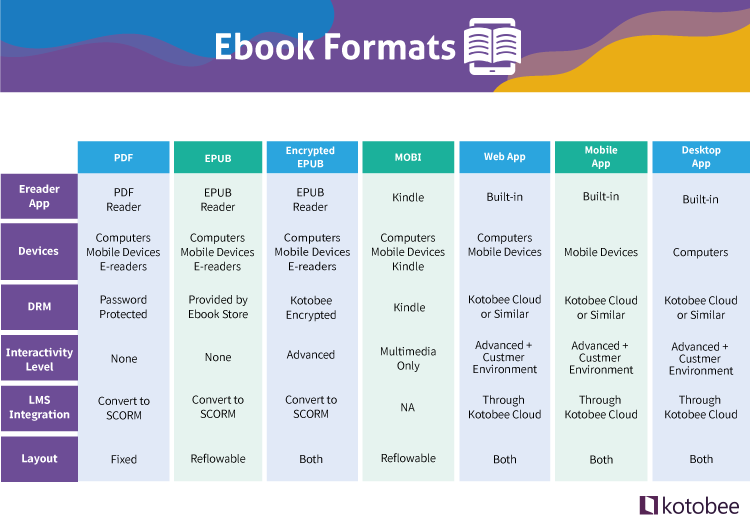 Important read: Ebook Formats Explained for Beginners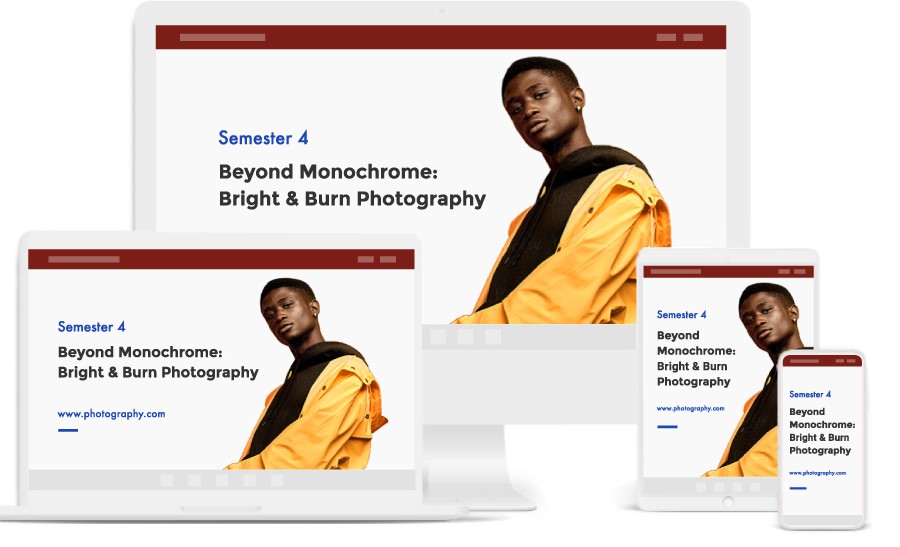 d. DRM
Having your ebook online makes it vulnerable to different kinds of theft, leaving you with less control over the copyrights. However, this could be avoided if you take the necessary steps to protect your intellectual property. You can use Digital Rights Management (DRM) to provide your ebook with a protective barrier, and gives you authority over how and when your ebooks can be downloaded.
Here is how DRM can help protect your ebook:
Give you control over ebook distribution.
Once someone buys the ebook, it's tied to the buyer, with few sharing options.
Allows control over how many devices the ebook can be downloaded to.
Restricts the copy-paste feature.
Read more: Ebook DRM & Security: What is it and How it Works
4. Marketing
Your ebook is out there? Congratulations! Here comes the last step in our guide, and it has to do with marketing your ebook to increase sales. Because the truth is, your ebook will not be sold off shelves in dozens (metaphorically speaking) as soon as you publish it.
Without a good marketing budget paired with patience and effort, chances are people will not get to read it. You can't sell your ebook if no one knows it exists. You need to create awareness however and whenever you can. Paid advertising is the most effective.
That said, do not underestimate the value of organic marketing via social media outlets. Facebook, Twitter, and Pinterest can spread the word about your ebook to your targeted audience efficiently and save you money.
You can find many ideas that will help you in this article: How to Market a Self-Published Book: Practical Tips for Indie Authors
FAQs
Should I write my ebook and then add the interactive features? Or work on both simultaneously?
Whatever you want. Most software allow you both options. Start writing, experiment, and do what works best for you.
What if I already have a published book, but no electronic copies of it?
Then you have two options. If the images in the book are few or not important then you hire a fast typist to type up your ebook into any word processor. The images can then be easily scanned.
If the images are many or the layout of the book is integral and you do not want to have to redo the layout. You can, instead, have your book scanned and turned into a PDF. Then with the interactive ebook software, you can build on the PDF. One of the most affordable places you'll find for scanning is 1 Dollar Scan. By mailing a hard-copy book to 1 Dollar Scan, you can get your book converted into a PDF for as low as 1 dollar.
To understand how to convert a PDF to an interactive eBook, you can read this article: 5 Steps to Convert Your PDF to a TRULY Interactive Ebook
Can I update my ebook after it is published?
Usually, no content is final or absolute. You may decide to make edits after publishing. You need to understand how updates are reflected on the platform you chose. For instance, if you publish your ebook on your personal website as cloud ebooks, updating that ebook is a straightforward approach. Unlike if you have chosen to publish on mobile or LMS.
Do all of my assets have to be uploaded into the ebook?
The simple answer to that would be, no. Including images, videos and sound recordings inside your ebook isn't always possible. Usually, for one of two reasons: copyright restrictions and/or the size of the file may be too big. So what do you do?
One of two things: You can just link to web pages, videos, sound recordings, etc. and your reader will go to the website to watch the video and then come back to your ebook. Or an even cooler option is to embed the visuals or sound recording. When you embed them, your readers will see/hear them as if they're in your ebook, but in fact, they're watching a video straight from YouTube (or wherever you're linking to).
Conclusion
In this article, we looked at the steps and resources needed to create an interactive ebook. While there are many other tools and services for creating ebooks, the resources mentioned here are focused on interactive ebooks.
In a highly competitive and expanding field, it's your content that defines you. And this guide is here to help you showcase it to its full potential. If you're new to ebooks, things may get messy at first, but in the end, we know you'll love your ebook.
Too much to take in? I agree. So feel free to bookmark this page, and use the resources mentioned whenever you need to. If you have any comments or suggestions, feel free to drop us a comment below.
.
Read More:
Alice in EPUB-Land: Understanding the EPUB format