Elearning for Employees: Methods, Tools, and Benefits
According to Pew Research Center, 63% of employees quit because there were no opportunities for advancement. This is a huge percentage! And this doesn't refer only to promotions and advancement in the career path, but also to the value the company provides employees with, in terms of training and development.
While the importance of workplace training might seem obvious, many employers fail to provide it properly, understand how critical it is, or aren't sure how to implement it. So here are some of the top methods, tools, and benefits of elearning for employees that every business owner needs to be aware of.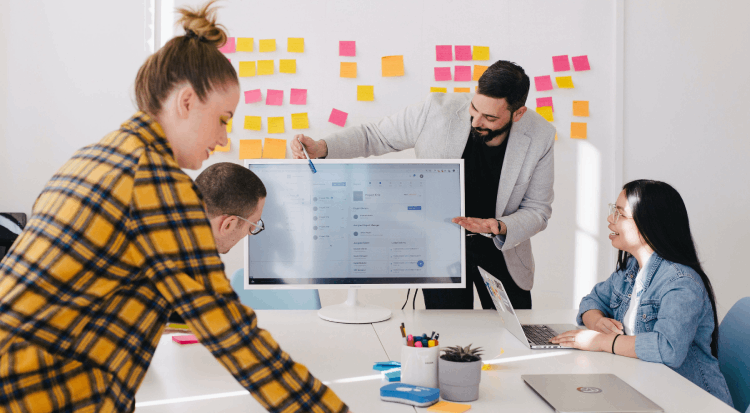 What Are the Best Online Training Methods for Employees?
The training world is filled with all types of methods that are used in different situations and industries. But for online workplace learning to be effective, it has to meet the different styles of acquiring information; it has to vary between visual, auditory, and kinesthetic learning.
Here are some effective methods that you can use in online employee training: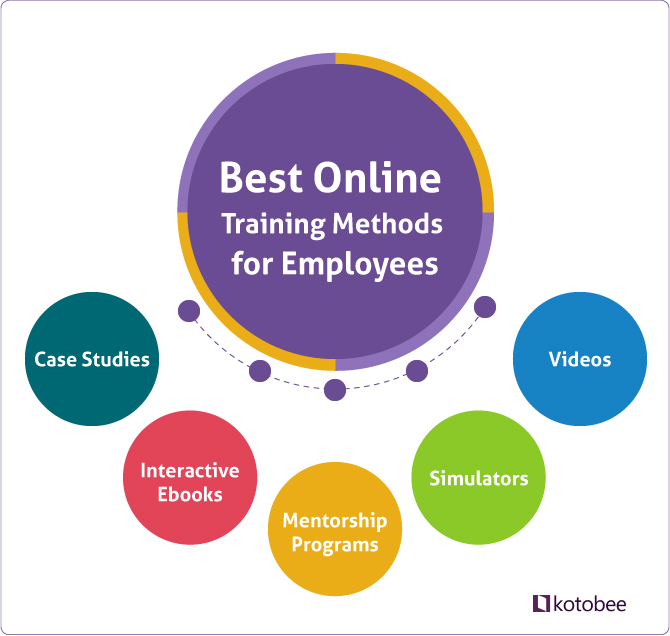 1. Videos
This is probably the most used method in elearning; an instructor stands in front of a camera and conveys information to the viewers, in what is known as online courses. This, however, isn't the only way to use videos in employee training.
Other video forms that are useful in employee elearning include live-action videos that demonstrate how to carry out certain roles or show acceptable and unacceptable behavior in the workplace. It can also be used as screen-recording videos that show some technical steps or tutorials. And lastly, it can be animations that explain complex topics using visual illustrations.
2. Simulators
Many jobs require an on-hands experience, like in the medical and aviation fields. That is why simulation software can be a great option for your employees. And the good news is that many of this software can be easily integrated into the LMS used by your business.
Using this method will help your employees gain more confidence, avoid critical mistakes, and solve issues that are likely to appear in their workday.
3. Mentorship
A great thing about technology is that it allows remote employees to connect and learn from each other. You can easily incorporate a mentorship program as part of your employees' elearning process. This will improve their progress, as everyone can benefit from personalized attention.
Not only that, mentorship and peer learning can help build a community, especially as more and more employees switch to working remotely. This can be applied in the form of group collaboration, peer-led courses, or discussion seminars.
4. Interactive Reading Materials
One of the widely used methods in business training is assigning certain reading materials to employees, such as manuals, then asking them to take some quizzes to assess their understanding. This, unfortunately, might be boring to some people, and that is where interactive ebooks come in.
Using interactive books in training can make the elearning process more engaging for your employees. It can also save you time as you can incorporate many useful features, such as audio, video, or quizzes with instant feedback. You can also make use of ebook apps that enhance the reading experience.
5. Case Studies
This method–in which employees are given scenarios with common work situations–is best used to develop problem-solving and analytical skills. These case studies are also a great way to train your employees and prepare them for what they might face in their daily work life. Moreover, it helps them apply the knowledge they have acquired through other methods of training.
What Are Some of the Best Online Training Tools for Employees?
Part of what makes employee elearning successful is the educational tools you choose to implement in their training. And since the technological scene is filled with all types of software that might leave you puzzled, we've created a list of the top 15 tools to help you find the ones that best meet the needs of your business and your employees.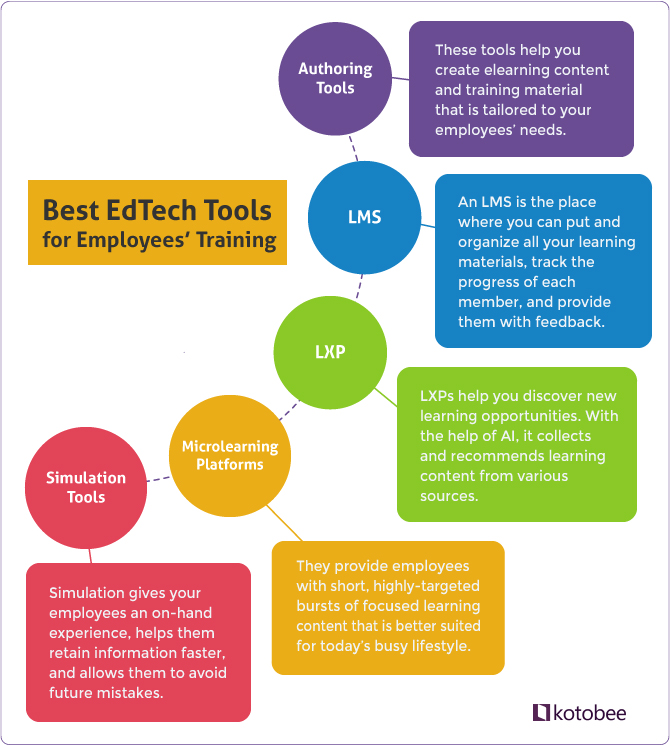 Authoring Tools
You need software to create elearning material for your employees, and that's where the authoring tools come in. These tools help you create elearning content that is tailored to your employees' needs. Here are some examples of these tools:
Kotobee helps you create interactive and engaging ebooks.
Articulate facilitates the process of creating online courses.
iSpring Suite is a PowerPoint-based tool that helps novice designers create great learning content.
Learning Management Systems (LMS)
An LMS is the place where you can put and organize all your learning materials. It also has an integrated system that helps you track the progress and work of each member. In addition to that, it allows you to constantly update the learning materials and provide your employees with the necessary feedback.
Some of the best LMSs for business include:
ProProfs is one of the simplest cloud-based LMSs for business.
TalentLMS has an intuitive interface, with easy access on any device.
LearnUpon provides the needed tools to build, assign, and measure employee training.
Learning Experience Platform (LXP)
An LXP is a software that helps you discover new learning opportunities. With the help of AI, it collects and recommends learning content from various sources. This makes the learning experience tailored to your employees' needs.
Here are some LXPs you might like to consider:
Learning Hub is an LXP that focuses mainly on building skills by pulling data from skills taxonomy.
Degreed aims at connecting learning and career growth to business opportunities.
Viva Learning helps integrate the learning capabilities of your employees into the existing work platform.
Microlearning Platforms
Microlearning platforms are business solutions designed for corporate elearning and employed by the HR and learning and development departments. They provide employees with short, highly-targeted bursts of focused learning content that is better suited for today's busy lifestyle. And the best part is that they can be accessed on any device. Here are some examples:
EdApp is a mobile learning platform with an integrated authoring tool.
eduMe helps embed microlearning content into your native apps.
Spekit aims at helping enablement and operation leaders drive change and accelerate tool adoption.
Simulation Tools
As we mentioned earlier, simulation is one of the most effective training methods. It gives your employees an on-hand experience, helps them retain information faster, and allows them to avoid future mistakes. So here are some of the top simulation tools you can implement in your employees' elearning courses:
ELM helps businesses create realistic simulations to train employees on using any new software.
Assima works on creating hyper-realistic simulations of any application so that employees could learn through practice.
BranchTrack is an online, stress-free simulation-creating tool that doesn't need any technical knowledge.
Using Kotobee in Employee Elearning

Many businesses and training institutions use Kotobee as their go-to authoring tool for creating interactive training materials. The Swiss Connect Academy, for example, used Kotobeee to provide their trainees with a joyful and flexible learning experience. Check out their success story to learn more about how they did it.
What Are the Benefits of Elearning in the Workplace?
Employees are the main assist of any company, and investing in them directly helps the business grow and develop. And while this might be enough reason to start implementing elearning in the workplace, there are actually many other benefits that are just as important, and we are going to explore them together.
Training is important in the workplace because it is:
1. Expected by Your Employees
That's right; employees join businesses they know will help them expand their knowledge. As we said earlier, the lack of development is one of the main reasons people quit their jobs. Providing them with high-quality elearning opportunities helps fulfill their need for growth, and helps you boost the hiring and retention of a talented workforce.
2. Empowering
The benefits of workplace training aren't limited to the employees; in fact, it empowers your business as well as the people working in it. You can use elearning to introduce new techniques and concepts to your employees, which will help them become better at their jobs (and maybe even on a personal level). It can also help them become better at serving and dealing with their clients.
3. Scalable
Having a digital approach to workplace training makes it more scalable in the sense that one piece of content can reach thousands of employees, and maybe even customers and partners as well. This results in a faster employee onboarding process and in increasing productivity throughout the business.
Not all employees learn in the same way or have the same experience. So putting them in one room and giving them the same training material might not be the best option. Instead, elearning gives your employees a chance to progress according to their own pace with training that is more tailored to them.
5. Cost-Effective
Elearning is good for the bottom line. It reduces the costs of trainers, materials, and travel, as all your employees need is a laptop or mobile phone, and sometimes an internet connection.
In fact, many companies have saved thousands of dollars by turning to elearning. According to Training Magazine, "When organizations scale back print runs [alone] in favor of digital distribution of information, they can experience up to an 80 percent reduction in print costs."
4. Targeted and Self-Paced
Not all employees learn in the same way or have the same experience. So putting them in one room and giving them the same training material might not be the best option. Instead, elearning gives your employees a chance to progress according to their own pace with training that is more tailored to them.
6. Much Greener
Not only is it cheaper, but elearning is also greener. A study by Britain's Open University found that switching to elearning "consumes an average of 90% less energy and produces 85% fewer CO2 emissions per [learner] than conventional face-to-face courses."
7. Saves Time
A Brandon Hall study found that switching from traditional learning to elearning saves 40% to 60% of the employees' time, as they can complete their courses anywhere without having to be physically present in one place. This is also more suitable for today's employees' flexible lifestyle.
8. Always Available
Today's employees learn on the fly or whenever they have the opportunity, and that's exactly what elearning allows them t do. Since it's always available and isn't tied down to certain schedules–like in traditional classrooms–, it gives them the chance to process the information they need at the time that suits them.
9. Provides Instant Feedback
One of the benefits of online learning for employees is that it can provide them with instant feedback about their learning process. This is great because having employees assess themselves is a great way for them to monitor their own progress. It is also good for the management team as it gives them regular updates about how the staff is progressing.
10. Suitable for Millenials and Gen Z
The younger generations are drawn to technology more than any other generation. And, as we said earlier, they don't just join companies to make money, but also to learn and develop. That's why online workplace training provides them with learning opportunities that best meet their learning needs.
Final Thoughts
Getting your employees ready for today's business scene is essential for the success of your company, and it all comes down to using the right elearning tools. With the many benefits of online training for employees that we've discussed throughout this article, properly implementing elearning in the workplace is going to leave both your business and your employees thriving.
.
Read More
What Is Virtual Learning and How to Benefit from It?
LXP vs LMS: What's the Best Learning Platform for You?