Best Microlearning Platforms and Tools for Employees (With Features and Prices)
With our attention span decreasing year after year, it is becoming increasingly difficult to focus on long-form learning content like a 2-hour lecture on YouTube. In fact, according to some recent studies, humans' attention span has decreased from 12 seconds in 2000 to only 8.25 seconds in 2022. That's less than the attention span of a goldfish, which is 9 seconds! For this reason, we now need a shorter and more attention-grabbing way to keep our learners engaged, and that's where microlearning platforms come in.
But what is this learning approach exactly? What are some of the best microlearning platforms out there? And how to choose the best one for your organization? We'll cover all these points, and more, in this article.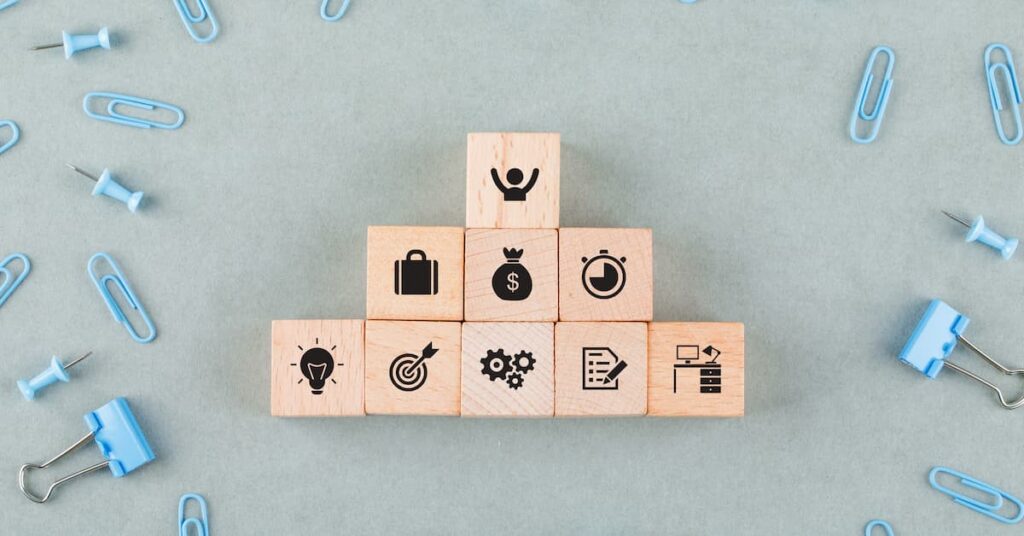 What Is Microlearning?
As a modern approach to learning, microlearning involves breaking down educational content into bite-sized chunks that can take many forms, such as text, images, videos, audio, quizzes, and games. The goal of this learning method is to provide learners with short bursts of content that keep them engaged and motivated to learn more.
The microlearning sessions usually last less than ten minutes, which can be ideal when the information is hard to digest and learners need time to reflect on their learning materials. And when it's applied in a smart way, it can be a great learning solution for employee training as well as for K-12 and higher education students.
Here are some of the key benefits of microlearning:
Improving knowledge retention by splitting the information into smaller pieces that are easier to revisit over time.
Giving learners the flexibility and control to learn on their own time and pace.
Raising learners' engagement with the learning materials.
Reducing the time and cost spent on creating and consuming educational courses.
How to Select the Right Microlearning Platform for You?
While some platforms might be perfect for some, they might not be a good fit for you. That's why when choosing a platform to provide your learners with microlearning solutions, there are several factors that you have to keep in mind, including:
Learning Objective: Before deciding on any microlearning platform, you have to first consider your learning objectives and needs to see if it meets them or not. You can start by asking yourself what exactly you want to get out of this educational program. Do you want more engaging content, in which case you would need some interactive elements? Do you want to separate lengthy text with some visuals and graphs? Or maybe you need some notifications that would alert your learners with new content?
Target Audience: Some microlearning platforms are made specifically with employee training in mind. Others can be used in schools and educational institutions. So make sure to check whom the platform of choice caters to before committing to it.
Integration: Having a microlearning platform that integrates with your existing system can make things much easier for you. If you already have a learning management system (LMS) or a learning experience platform (LXP), or if your organization uses any other tools, it's a good idea to check for microlearning platforms that integrate with them. That way, your employees won't be distracted by having to use multiple platforms.
Analytics and Reports: Measuring the progress of your learners and seeing how they interact with the learning material should be an essential part of the microlearning platform you use. This way, you can make data-driven improvements and help your learners achieve their fullest potential.
Budget: Last but not least, it's important to keep your budget in mind while choosing the platform. The ones with lots of features might come with a hefty price tag while others can offer a freemium model with limited features. So set your budget and make your choice carefully.
Top 12 Microlearning Platforms
Now that you understand the benefits of microlearning and how to choose the right platform, let's explore some of the best options available. These don't only include learning Management Systems (LMSs) but also tools that can be seamlessly integrated into your existing learning platforms and communication channels.

Kotobee can be a great tool for creating microlearning materials. Using its AI tool and interactive features, you can divide any topic into small chapters that can be consumed in less than 5 minutes. The best thing is that you won't be limited to text and multi-media content only; you can also add other interactive features and games to make your content more engaging. And when you're done creating your micro-courses, they can be easily integrated into your LMS.
Main Features
AI content generation tool for images, text, and quizzes.
Interactive features including audio, video, animations, assessments, and more.
Ebook apps for making the micro-learning material engaging and fun.
Customization options for branding and including the organization's theme and logo.
Seamless integration with any LMS via SCORM files.
Importing content from various sources, including PDF, Epub, MS Word, and even HTML.
Exporting to over 12 different formats, such as web apps and mobile apps.
DRM protection for keeping your content secure.
Customizable language interface to around 20 languages.
Easy collaboration with team members on creating the learning content.
Analytics dashboard for analyzing user activity and engagement with your content.
Pricing
Kotobee Author offers a freemium version with some great features! As for their lifetime licenses, you'll find a Basic Plan for $150 for one user, a Premium Plan for $300 for one user, and an Institutional Plan for $2000 for 10 users.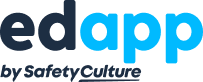 This mobile-based LMS allows educators to deliver micro lessons to their students. It is easy to use for educators, especially since it has an AI tool that facilitates the content creation process. Moreover, it is also designed to create learning material that's fun and engaging for the learners, with games and multimedia features. And while it's mainly a microlearning app, the courses can be accessed from various devices.
Main Features
AI creator tool with videos, quizzes, and games.
Editable, ready-made course library.
Offilie access to the learning material.
Automatically converting PowerPoint presentations into micro-courses.
Over 80 course templates to choose from.
Downloadable learning analytics with reports and insights.
Built-in educational games and leaderboards for competitions.
Customizable certificates for course completion.
In-built social and peer learning.
Easy integration with other EdTech tools.
Pricing
While EdApp does offer a free plan, their paid plans come with additional features such as API integration and SSO (Single Sign On). These plans start from $2.95 for each user/month, and they also offer customized plans for enterprises.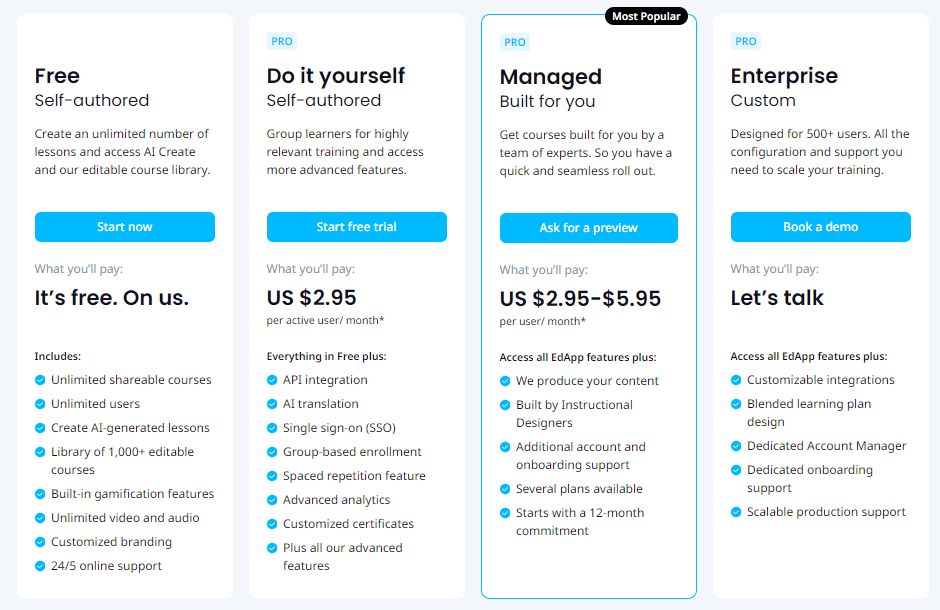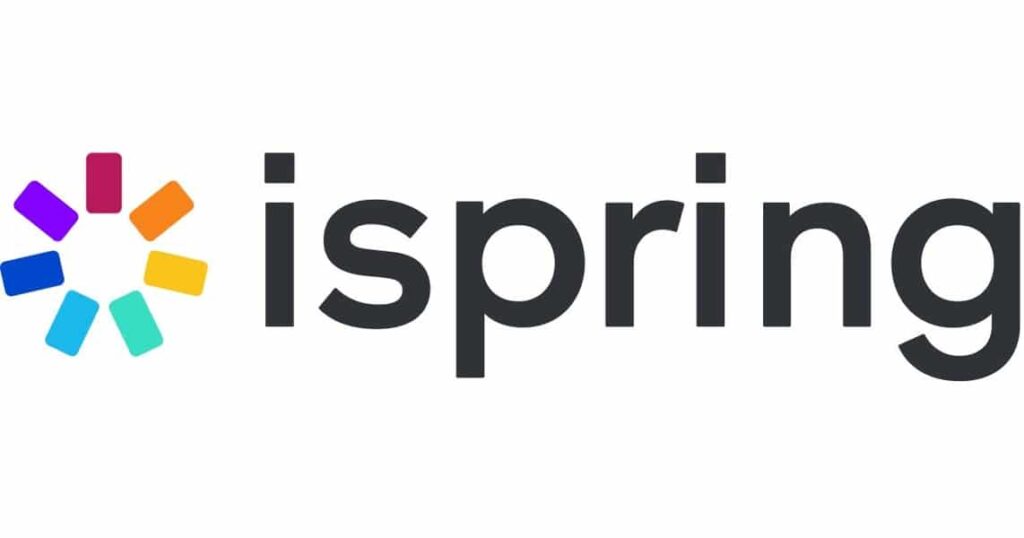 iSpring Solutions offers an LMS that helps deliver training material in tiny pieces and keeps employees engaged and invested in the learning process. Since it's cloud-based, this online microlearning platform can be accessed from anywhere. It also offers a mobile app to help your employees learn on the go.
Main Features
Course creation toolkit, including videos, slides, and quizzes.
Offline access to courses and learning materials.
Notifications for approaching deadlines and new courses.
Leaderboard for learners to compete and win badges.
Unlimited storage space without any extra fees.
Customer support via email, phone calls, or chat.
Pricing
If you are looking for a free microlearning platform, then you might like to check out their free trial. They also have two plans: the Start Plan for $2.29 for each user per month, and the Business Plan for $3.14 for each user per month.


TalentCards proved to be one of the best microlearning apps found today! It provides pre-built templates for creating bite-sized learning content in a matter of minutes. Its main focus is allowing field employees to access training materials while on the job. Moreover, its AI tool also makes creating micro courses such an effortless task. You can start by creating these courses on the web and your employees can access them through their smartphones.
Main Features
Toolkit for course creation that includes videos, images, and audio files.
Analytics and reports for tracking learners' progress.
A leadership board that encourages learners to compete and gain points.
Spaced-based repetition algorithm to help employees master difficult matters.
Quizzes to measure results and knowledge retention.
Polls and surveys for gathering feedback.
AI-powered translation into more than 100 languages.
Downloadable content for offline access.
Customizable app to add the organization's brand theme and logo.
Push notifications for updates and new content.
Pricing
TalentCard offers three packages with different features and prices. If you have a small team (up to 5 employees), you can use the Free Plan which comes with many useful features. Otherwise, you can get their Standard Plan for $50/month for 50 users, or the Premium Plan for $75/month for 50 users.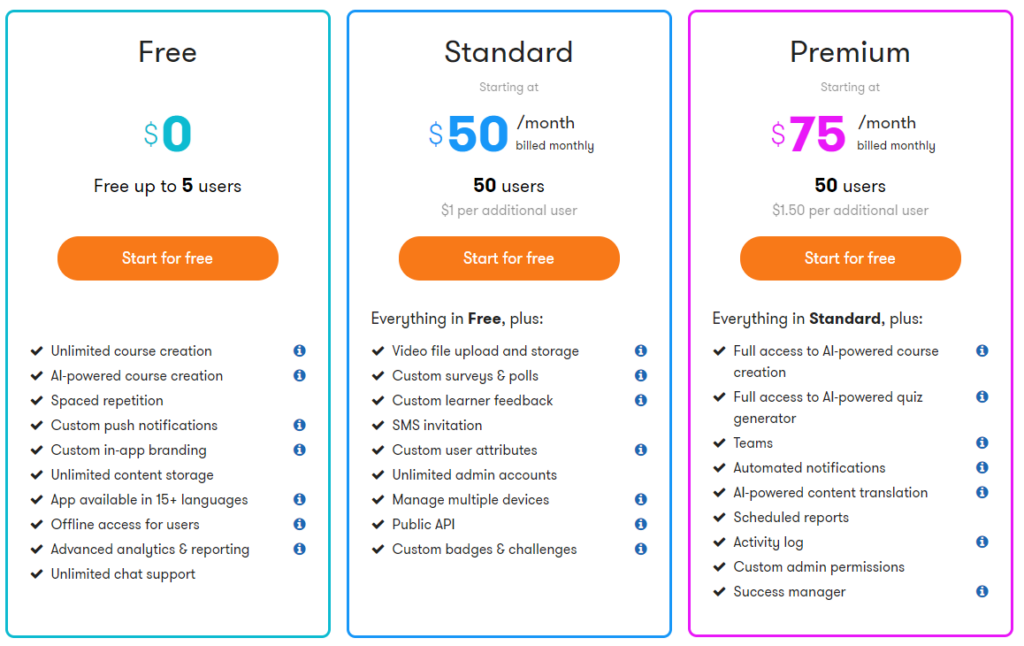 This is another microlearning application for enabling frontline employees to access training materials without having to spend hours in a training hall. With a built-in AI tool, it enables you to create quality content and understand your learners' behavior, reducing costs and time along the way. And the best thing is that it can be seamlessly integrated with your existing workforce tools and software.
Main Features
Integration with various workforce tools, including Microsoft Teams, Workday, and BeeKeeper.
Stories format for viewing training material, imitating that of social media.
Content builder app for creating training content on the spot.
Interactive elements such as quizzes and polls.
AI lesson generator tool for effortless training content creation.
Analytics to track and improve employee engagement.
Pricing
eduMe offers multiple plans with varying features, including a free plan, and will soon introduce a Premium one for $149/month. They also have an Enterprise Plan for large businesses.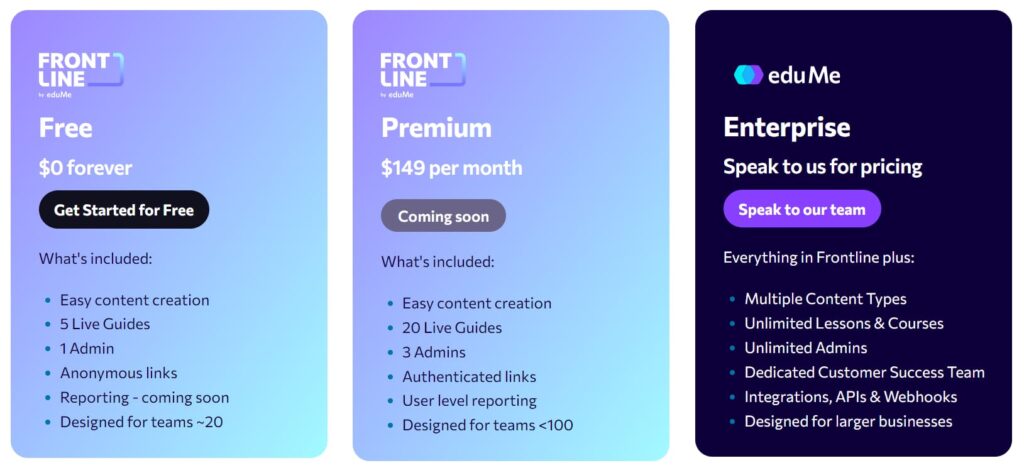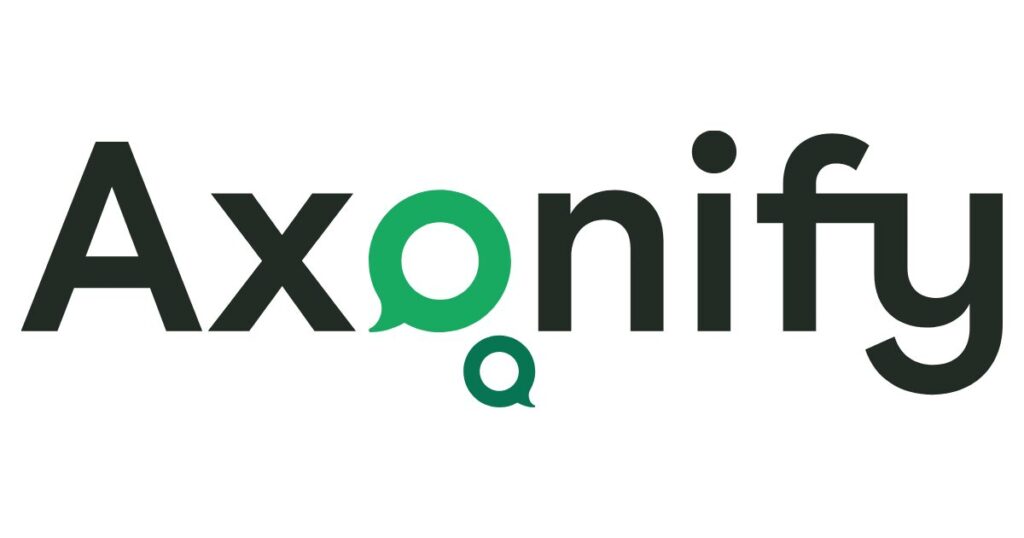 Designed to maximize the potential of the workforce, Axonify provides the necessary tools that help your employees learn, connect, and get things done. It allows you to create micro-learning courses that fit in the limited free time the frontline employees have. And with an AI tool, your employees can have an instant assistant while they are on the job.
Main Features
A centralized, searchable information hub for quick access to information.
Spaced repetition of information for better knowledge retention.
Gamification features for higher engagement.
Data analytics and reports to help improve the learning experience.
Personalized learning paths that are fully customizable for each employee.
Training content marketplace with over 830 topics for quick content creation.
A conversational generative AI tool to help front-line employees on the spot.
Translation to over 60 languages.
Pricing
Axonify comes with many features that empower learning and development among your employees. For information about their pricing plans, you can talk to their sales representatives.

Gnowebe is an award-winning tool that allows you to create and design interactive micro experiences that are group-based. As a mobile-first platform, employees can access the bite-sized learning material anytime and anywhere. Whether you need it in onboarding, training, or customer engagement, you'll find all the tools you need to create impactful content and keep your employees engaged.
Main Features
A user-friendly interface for quick content creation.
Collaborative authoring that allows multiple users to create and edit content simultaneously.
Analytics and reports for tracking employees' progress and asses their learning experience.
Interactive content, including assessments, quizzes, and social tools.
Personalized notifications for maintaining engagement and improving retention.
Easy integration with more than 500 tools and platforms, including LMSs, CRM systems, and messaging apps.
Leaderboards and gamification features to increase motivation and promote friendly competition among students.
Pricing
If you would like to give Gnowebe a try without purchasing any of their plans, you can try the free package and see if it fits your requirements. They also offer a Starter Plan at $29/month and a Pro Plan for $71.1/ month (when paid annually).
Serving over 12 thousand organizations, 7taps is made to be one of the most advanced microlearning software, especially since it is designed based on scientific data and research. Using their predesigned templates, you can easily create micro courses in a matter of minutes, without having any technical expertise. These courses appear in the form of interactive cards, with the ability to add videos, quizzes, and audio files. Moreover, it can be accessed both on mobile phones and desktop computers.
Main Features
Built-in framework for easy content creation.
Sharable standalone learning assets with the ability to embed them in other platforms.
Instant analytics and reports that can be exported for data tracking.
Interactive elements including quizzes, videos, and audio files.
Customizable templates to add organizations' brand theme and logo.
Pricing
While 7tap offers a free plan with limited features, it also offers a Pro one for $99/month, as well as an Enterprise Plan for large organizations.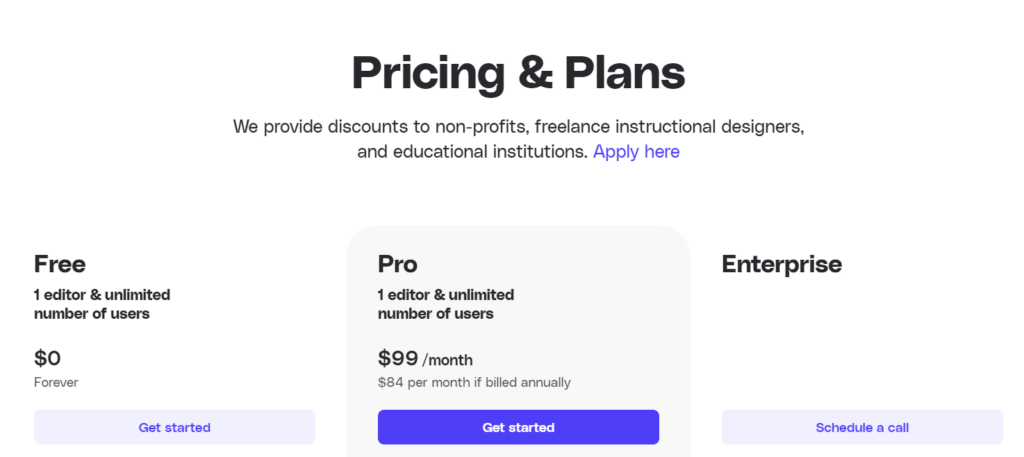 This unique tool provides you with an AI assistant to easily create mini-courses. With a card structure and interactive elements, you can use it in creating educational lead magnets or on-board training materials. All you have to do is type your profession, target audience, and a short description of the mini-course you'd like to create; based on this input, it proceeds to suggest a customizable title, outline, and some themes that go with your brand. And while this is a stand-alone tool that isn't embedded in LMSs or authoring software, the courses created by it can be easily shared with your audience using customizable links.
Main Features
AI tool for generating text, outlines, titles, and images.
Drag and drop feature for arranging and customizing content.
Interactive features, including quizzes, surveys, and videos.
Access control options, allowing free, password-protected, or paid access.
Customizing and branding features to add organizations' logos and colors.
Multiple sharing options, including embedding on web pages and link sharing.
Pricing
Mini Course Generator offers a Basic Plan that is free but with some limited features. It also offers a Premium Plan for $15/month and a Premium Plus Plan for $25/month (with 50% off when billed annually).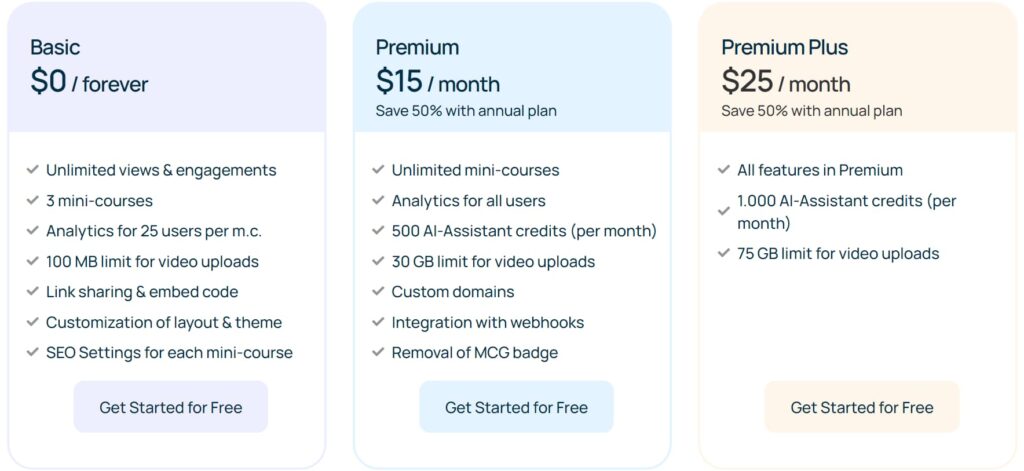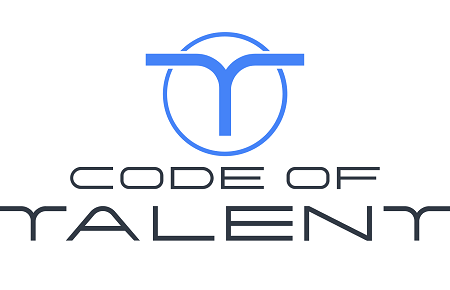 With a main focus on making learning fun and engaging, Code of Talent is designed to provide micro-courses with game-like elements, such as badges and rewards. It also combines modern learning approaches with collaborative peer-to-peer learning to ensure achieving the desired behavior change for business impact. Using this tool, you can create micro-learning missions that take your learners only three to seven minutes to accomplish.
Main Features
Easy to access through multiple platforms, including mobiles and laptops.
Facilitating collaborative learning through social features and peer interactions (such as commenting and like buttons).
Supporting 18 languages to reach a wider audience.
AI tool for easy content generation.
Gamification features with rewards and badges for a more engaging learning experience.
Ability to provide feedback and evaluation to learners along the learning journey.
A fully customizable and personalized learning experience.
Assigning multiple users with different roles to manage the platform.
Data privacy and security by using Amazon Web Services Europe cloud infrastructure.
Instant reports and analytics to measure performance and learning engagement.
Pricing
If you have a startup or a small business, you can choose the Basic Plan for $8/user each month, up to 25 users. But if you have a larger number of users, you can select the Partner Plan for 7/user each month, up to 50 users. And for enterprises, you can contact their sales team for a quote.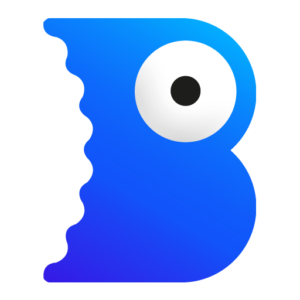 As the name suggests, this platform facilitates the creation of bite-sized content for your frontline and deskless employees to learn on the go. It helps create interactive and media-based content (similar to that of social media reels and stories) to engage and educate users in an engaging and fun way. Without the need to download any apps or software, Bites can be easily integrated with various communication channels, including Microsoft Teams, Line, WhatsApp, and Slack.
Main Features
Interactive features, including videos, quizzes, and audio files.
Video editor with the option to add text, GIFs, filters, and voiceover.
Auto-generated subtitles and speech enhancement.
Dividing long content into playlists for easier content consumption.
A personal feed where every user can find their assigned Bites.
Analytics and reports to track users' engagement and performance.
Dashboard for managing users in bulk to save time.
Ability to create user groups for quicker data distribution.
Pricing
While there isn't much information on Bites's website about the prices of their Business Plan, according to G2, it starts a $2/user every month, with the maximum number of users being 299. But please note that this price was last updated in 2022, and it's better to contact their sales team for a more accurate quote.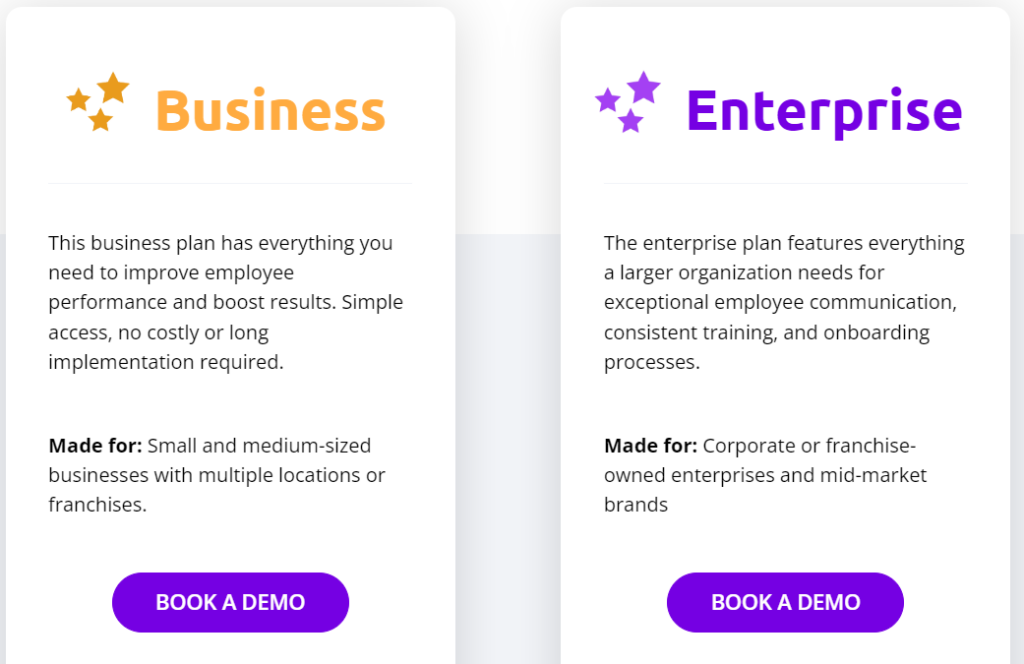 This mobile app offers a micro-learning and knowledge reinforcement solution for enterprises and organizations of all sizes. What is special about Qstream is that it was founded at Harvard and it uses a reinforcement methodology that increases knowledge retention by about 170%! Moreover, it focuses on creating personalized and engaging learning experiences for hybrid workforces.
Main Features
Spaced repetition for improved knowledge retention.
Scenario-based learning for real-world context.
Seamless integration with many workforce tools, including Webex, Microsoft Teams, 360Learning, and Cornerstone.
Customizable content delivery for a more personalized learning experience.
Real-time extensive analytics for effective coaching.
Immediate feedback and scoring systems to boost engagement.
Accessible content through any device or system.
Pricing
The pricing of Qstream's different packages isn't stated on their website. However, you can schedule a call with their sales representatives to see this great tool in action, tell them about your specific needs, and get a precise quote.
Final Thoughts
With today's fast-paced environment, all organizations must adjust their learning and development strategies to ensure an engaging experience for their learners. By utilizing the microlearning tools and platforms mentioned in this article, training managers and corporate leaders can ensure better knowledge retention and a more enjoyable learning experience for their employees and users.
.
Read More
How to Choose the Best LMS for HR Training
Elearning for Employees: Methods, Tools, and Benefits